Over the years collectors and horror fans alike have had a plethora of Chucky merchandise to choose from. Action figure versions of the infamous killer doll have been a mixed bag. One big and valid question everyone seems to have is "How hard is it to recreate a toy in toy form?" Well while there have been some expensive versions that are pretty accurate, there has yet to be an affordable 7inch scale action figure version that really did Chucky justice…until now. 
NECA's "Ultimate" line of figures are extremely popular and the cream of the crop when it comes to horror/sci fi figures. The line has provided horror fans with definitive versions of the likes of Freddy, Jason and Leatherface and now they can add the definitive Chucky to their ultimate collection. Before we get into this just know Chucky is right up there with Michael Myers for me when it comes to favorite horror icons and the original Child's Play is the film that scared me the most as a kid and to this day is my favorite horror film tied with the original Halloween. So this figure is one I had been waiting for and it was worth the wait.
Like the rest of the ultimate collection, Chucky comes packaged in a window box which opens to reveal a superb selection of alternate heads, hands and accessories.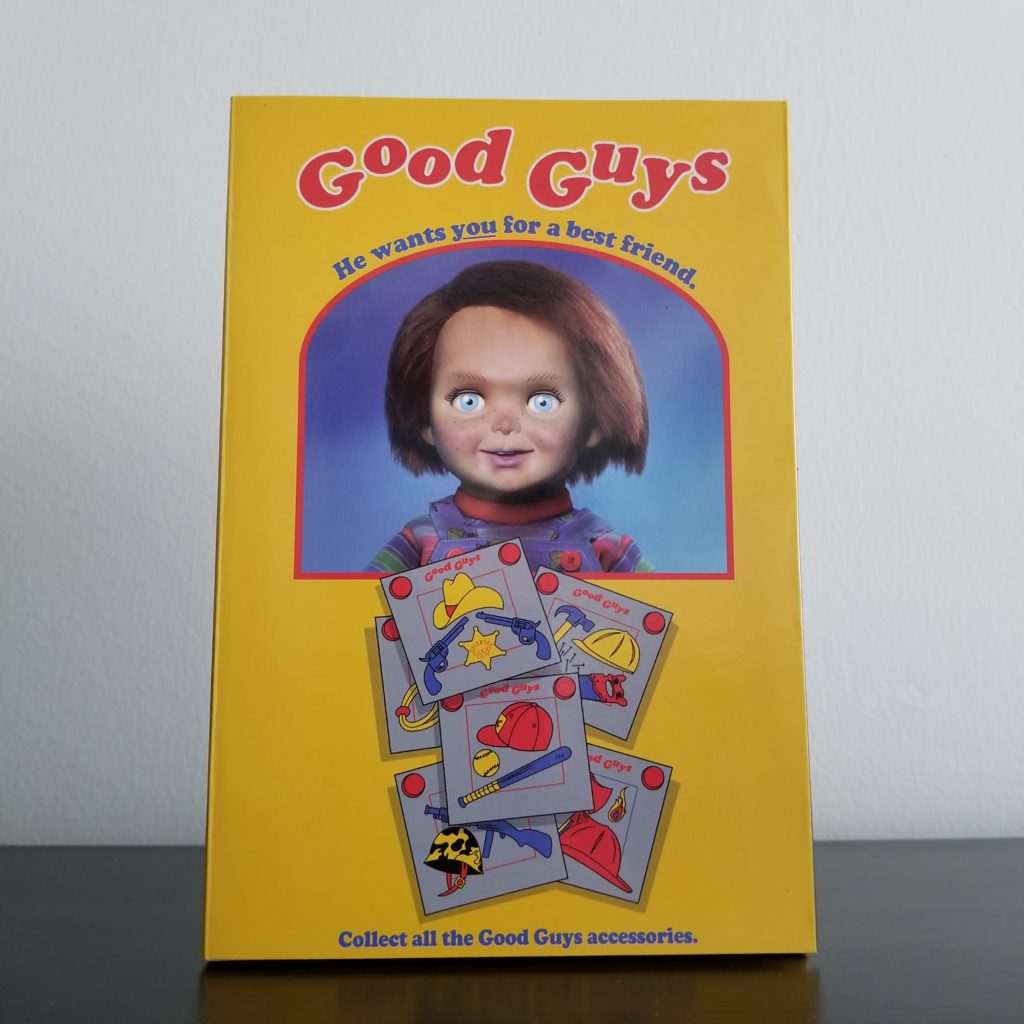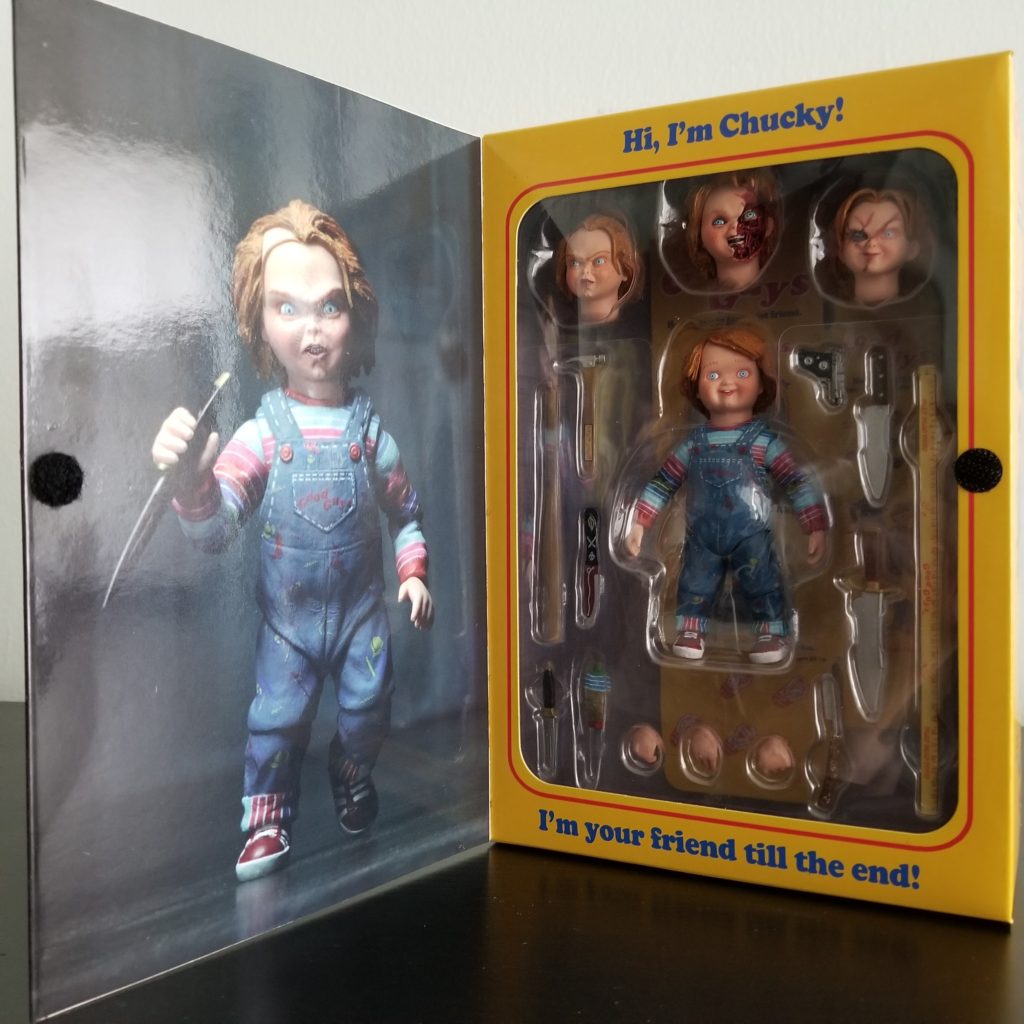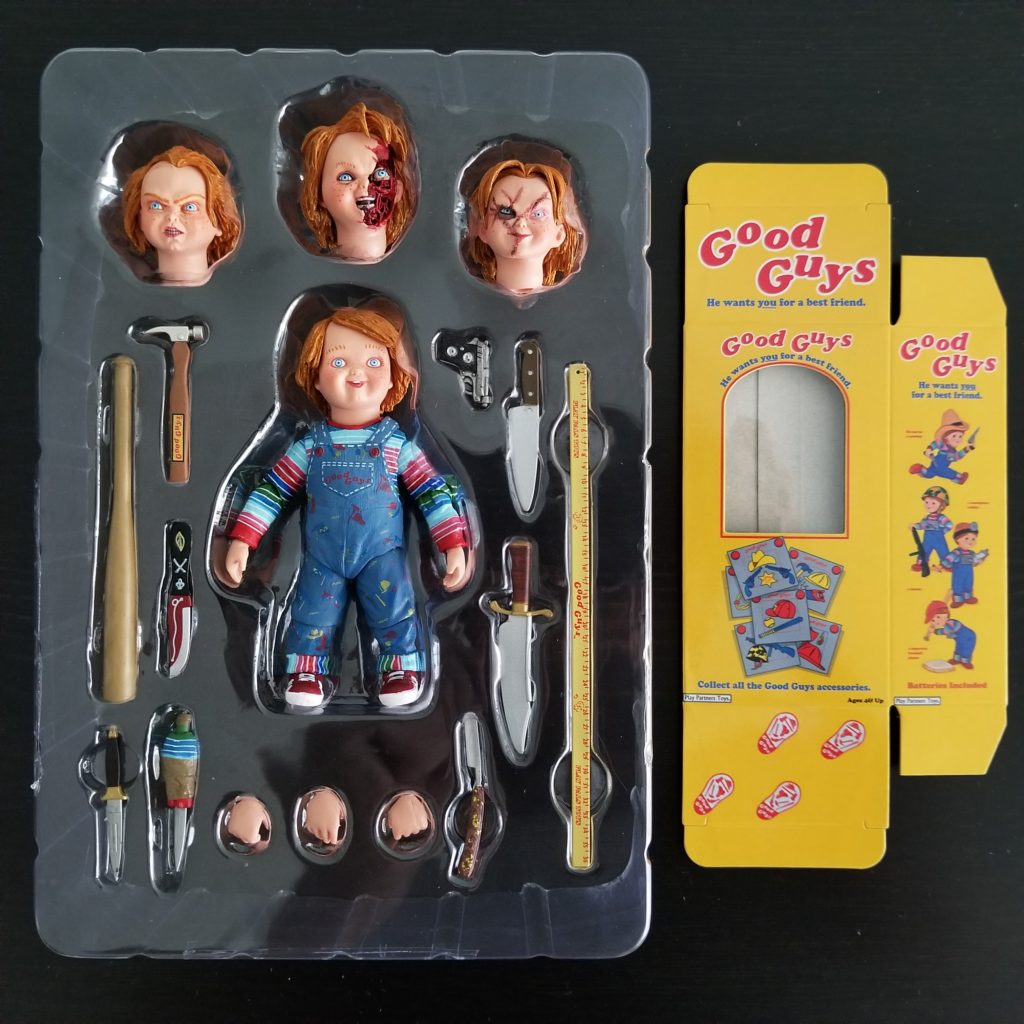 Ultimate Chucky comes with a Good Guy doll box similar to the one that came with the Chucky figure years ago in NECA's Cult Classic line. This is a nice inclusion and Chucky fits inside the box nicely if not a bit loose as the box is a tad wide. It still is very cool but I would have loved for it to be a bit more narrow but that is a minor nitpick coming from a huge Child's Play fan. Chucky comes with 4 different head sculpts so lets start with the Good Guy doll head. As previously stated everyone always wonders why it is so difficult for toy companies to get the likeness right on Chucky figures, well for starters NECA did a bang up job on this Good Guy head sculpt. To me it seems most based on the Good Guy look from Child's Play 1 (which is a good thing) as the dolls are slightly different in 2 & 3. In this fans opinion this is such a big part of this figures appeal and I imagine it will lead to collectors purchasing more than one to display this alongside evil Chucky. A major plus this time around is NECA has opted to sculpt Chucky's hair and it makes all the difference compared to the rooted hair used on their previous Chucky figures. It looks so much better and helps the looks they are aiming for be more accurate, the hair on the good guy doll version is really close to the look in the film. As you can see in the photos below the Good Guy head is a big selling point for this figure and a no brainer to include in this ultimate edition. In addition to the usual multiple points of articulation that NECA is known for Chucky also comes with the two neutral hands that are generally synonymous with the Good Guy Doll as well as the infamous hammer seen in the first film. The lower waist part of Chuckys overalls are made with a soft PVC and allow for Good Guy doll sitting poses which you can also see in the photos below.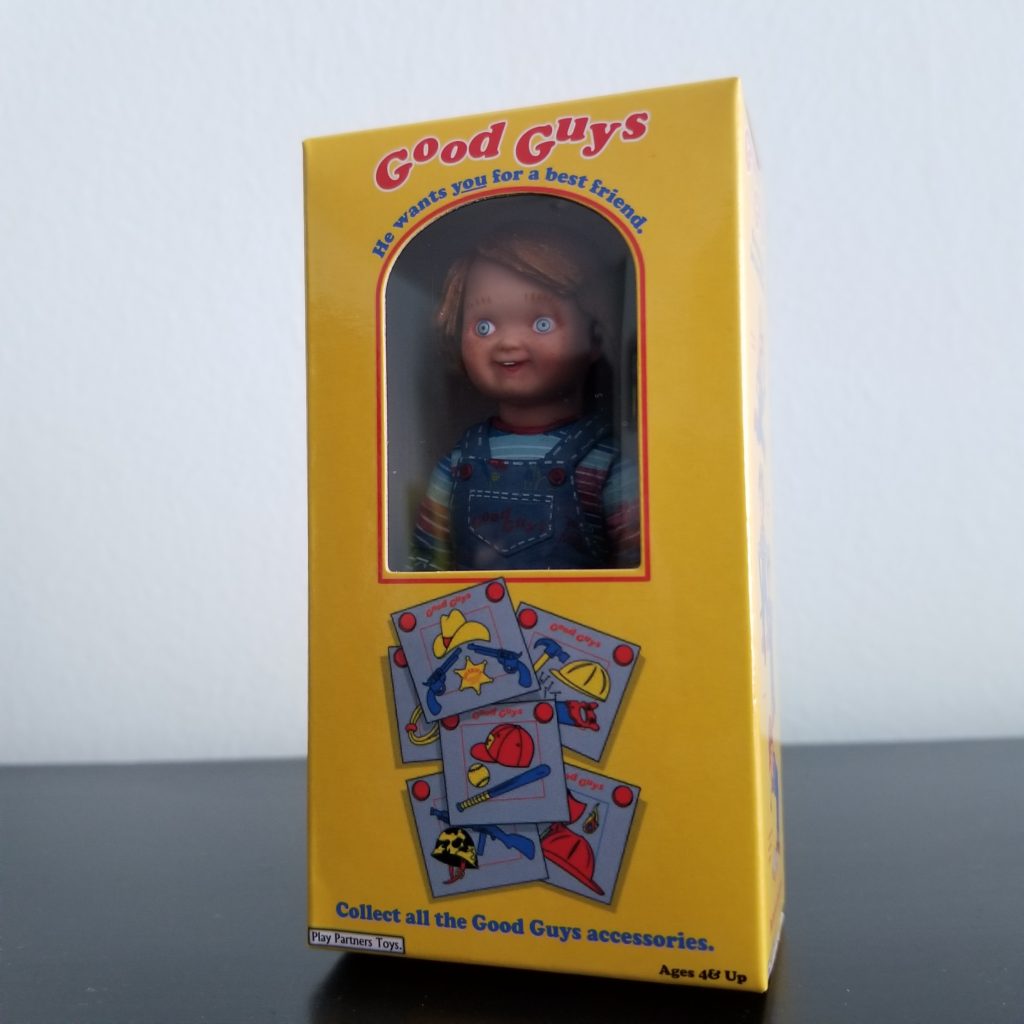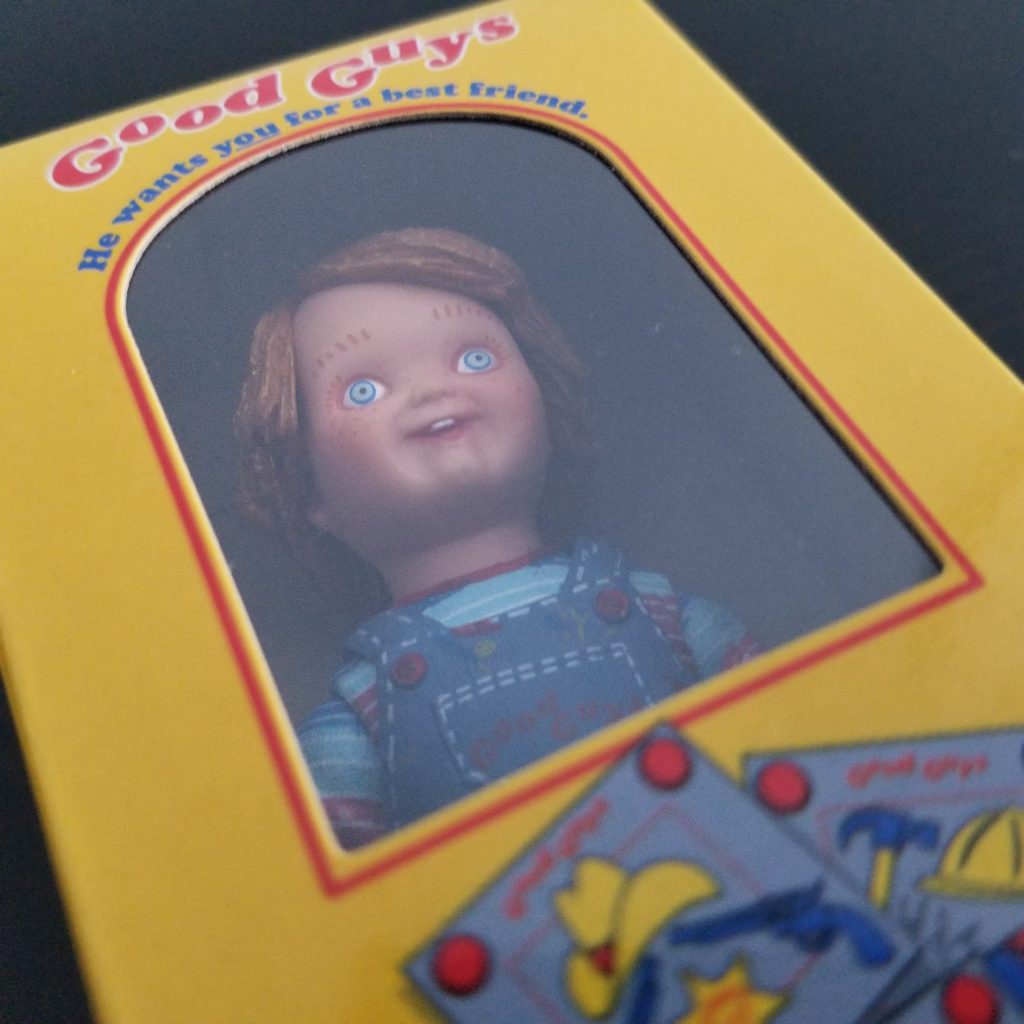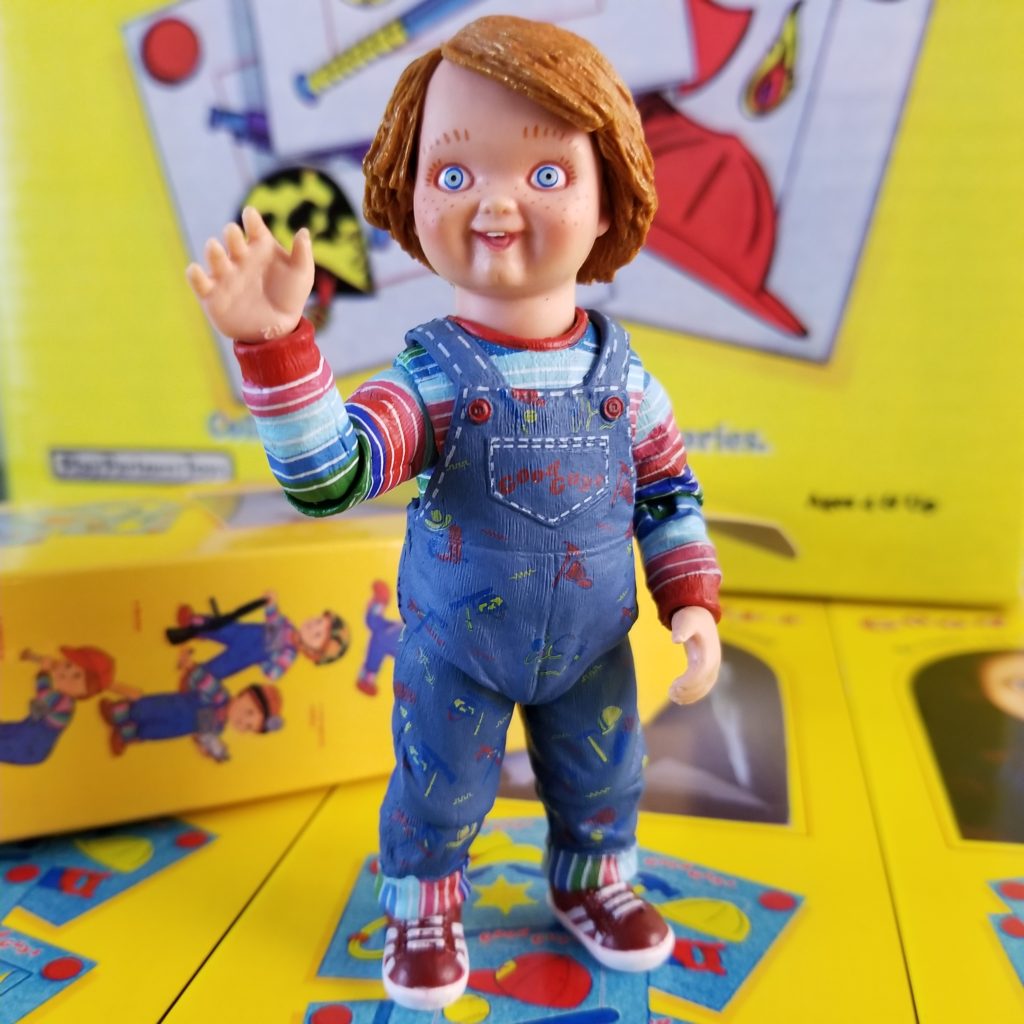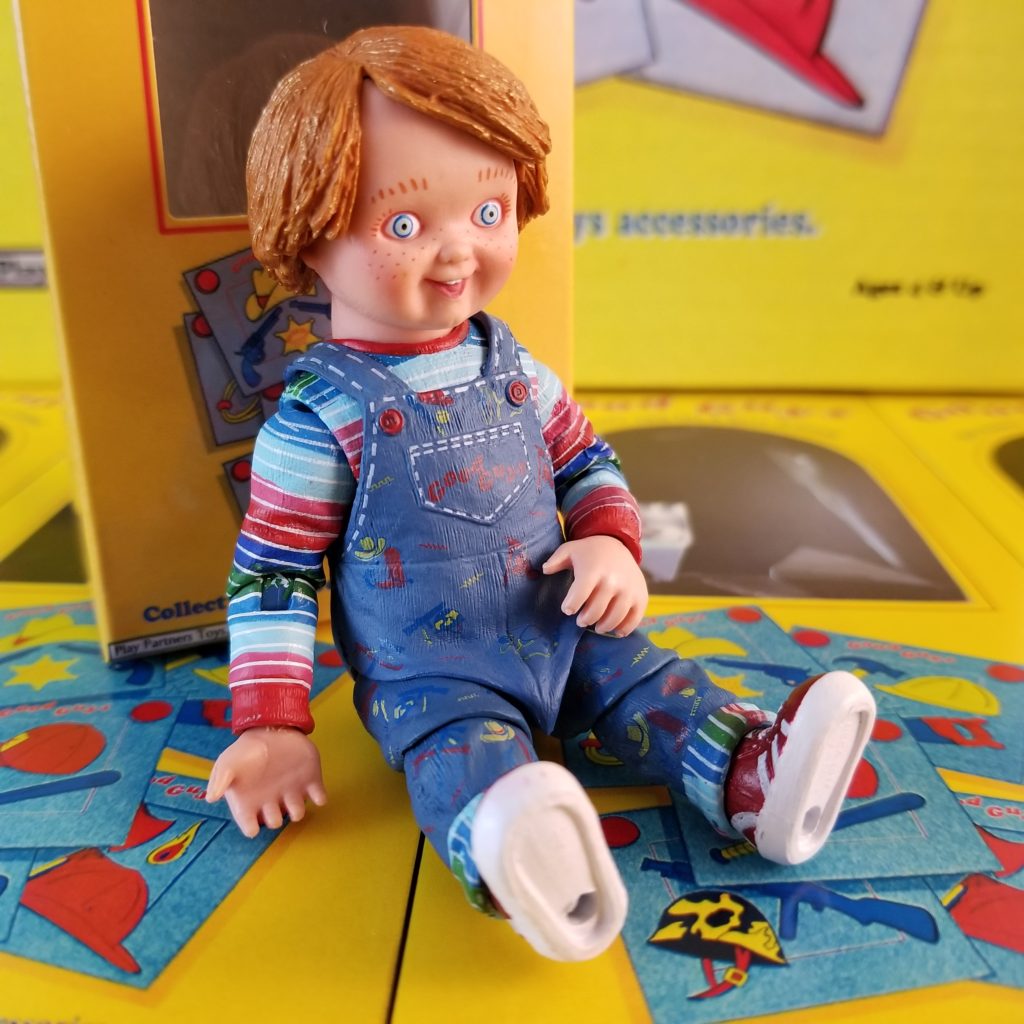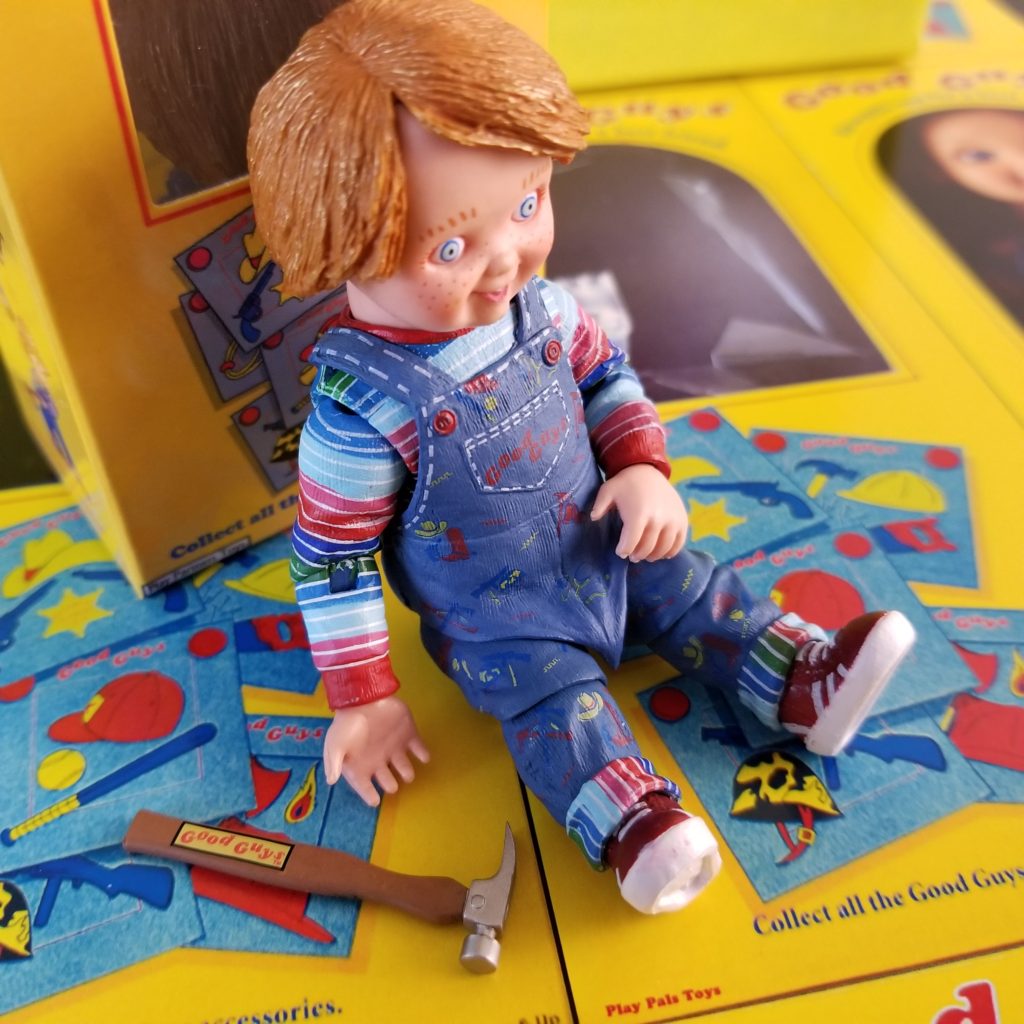 Next up is the head I was least excited about but was still a good idea on NECA's part to include. It's a headsculpt based on his final look in the Curse of Chucky. His look in that film is distinct and different from the previous films Bride and Seed. It isn't my favorite look of his particularly when compared to the scarred look featured in Bride which works better for me. Still a head based on Bride wouldn't work here due to the fact his outfit would require stitches and tears, but for Curse it works just fine and the sculpt here is pretty spot on to how it appears in the film. This will also be a selling point as there has not been a figure based on Curse before and it allows NECA to include the popular scarred look that many people favor when it comes to Chucky. He also comes with the kitchen knife used in that film is well. For those wondering the heads are easy enough to remove and replace and fit nice and snug, the only one I had issue popping onto the peg was this Curse one, but they all work well and allow for a nice range of movement and posing. Take a closer look at the photos below.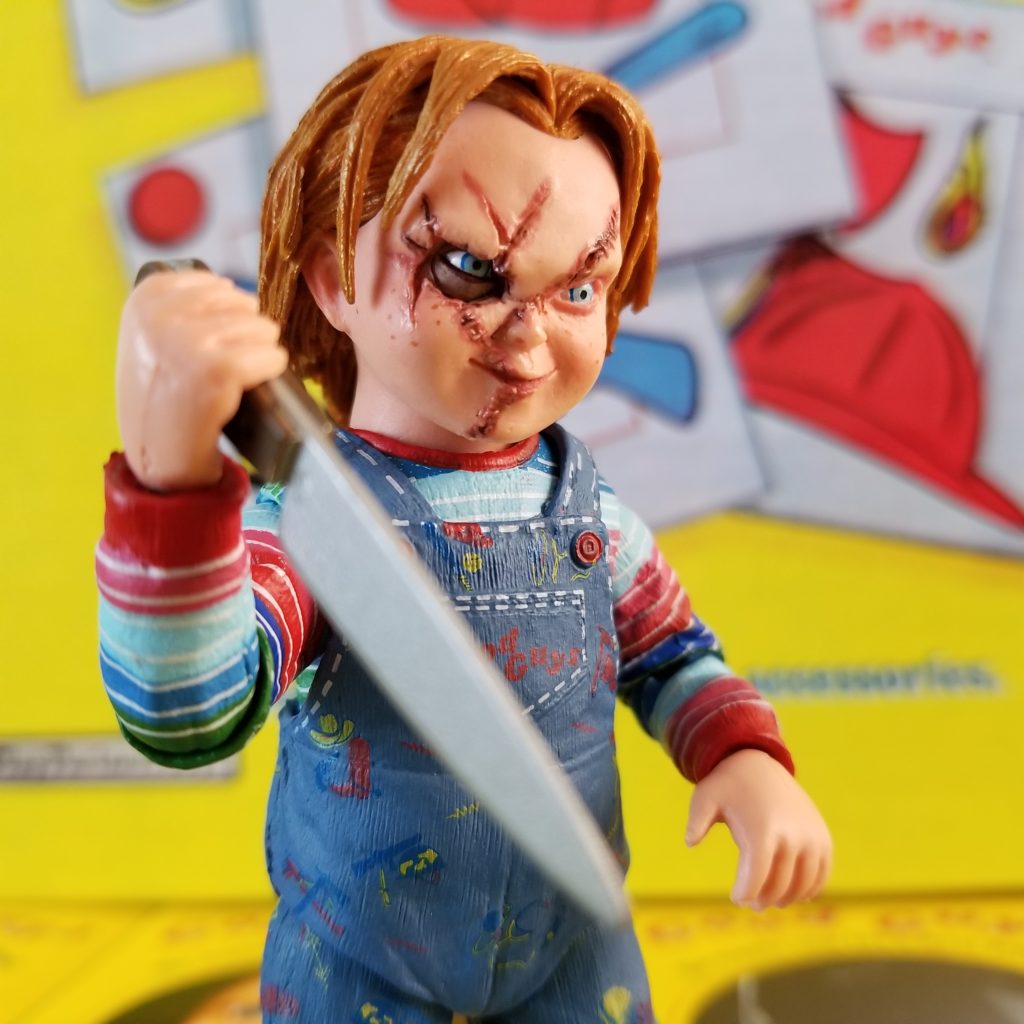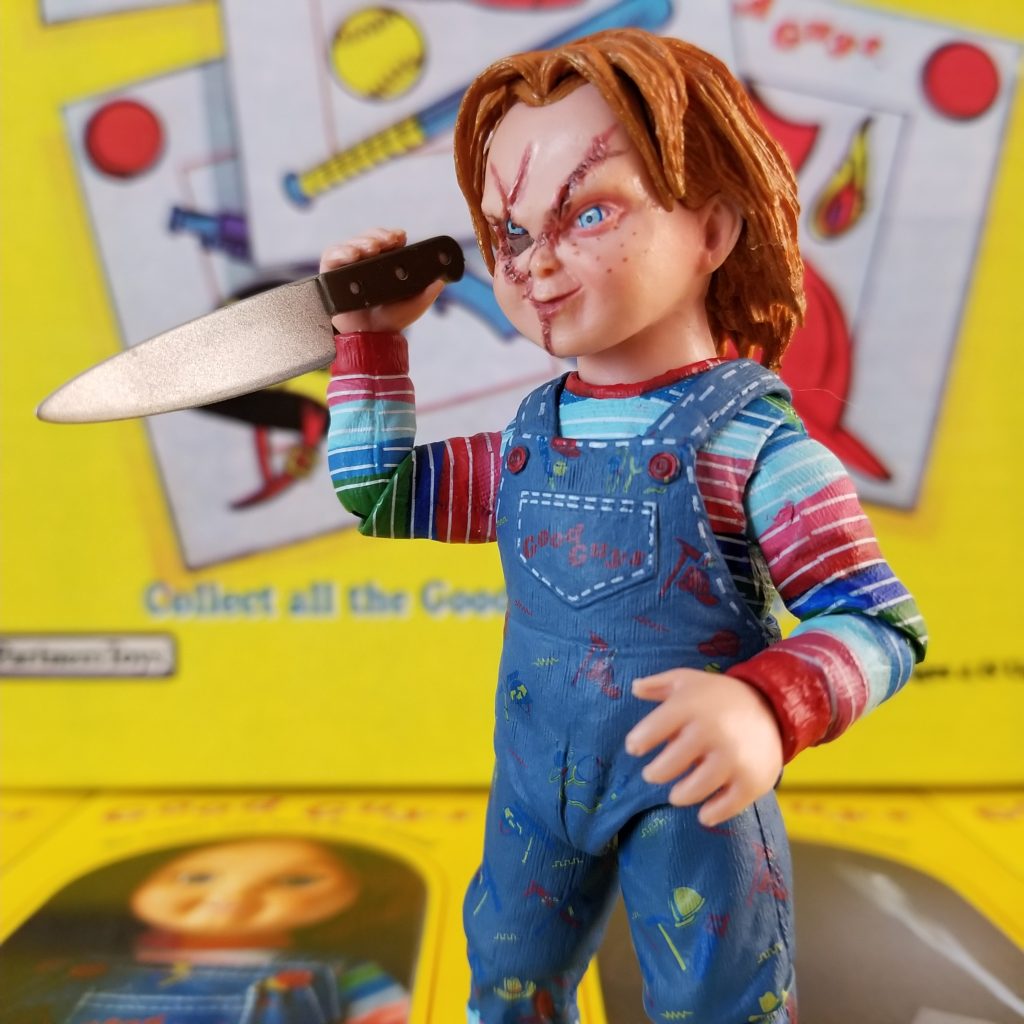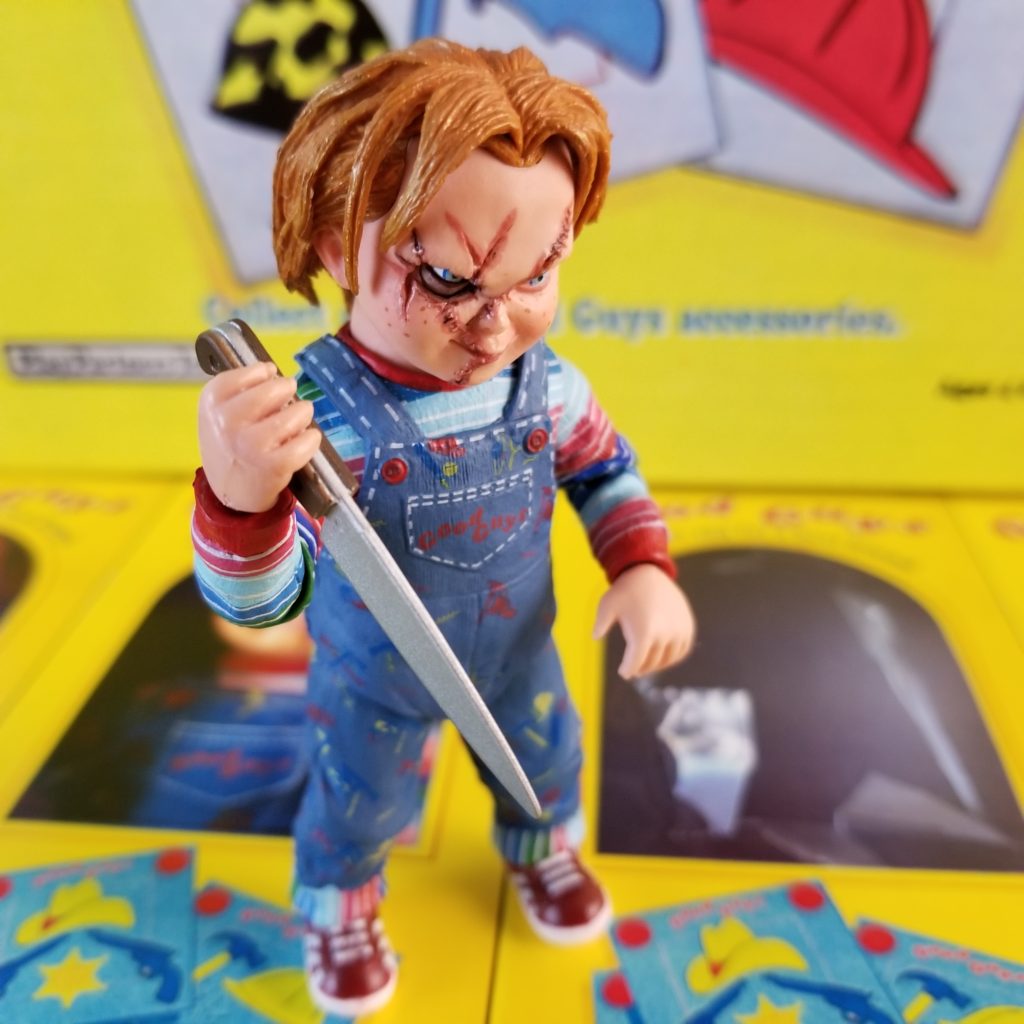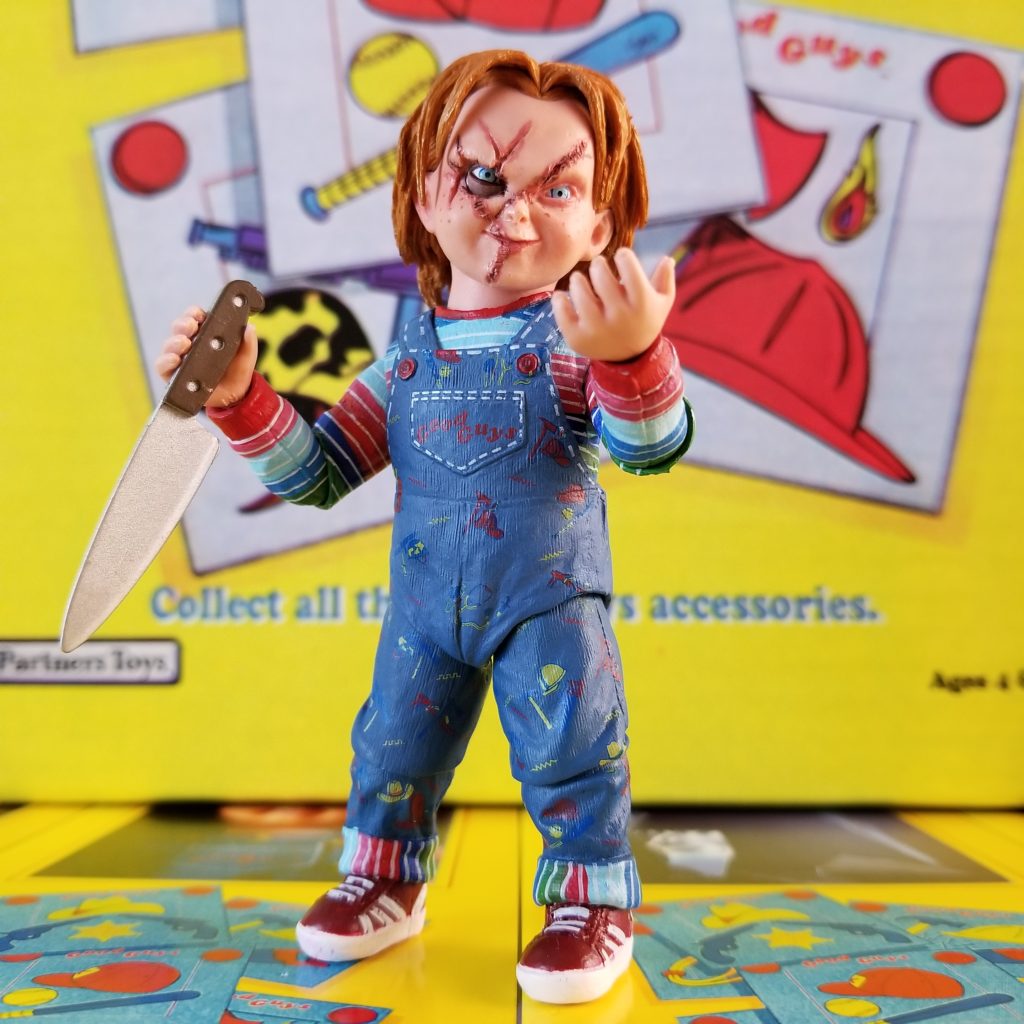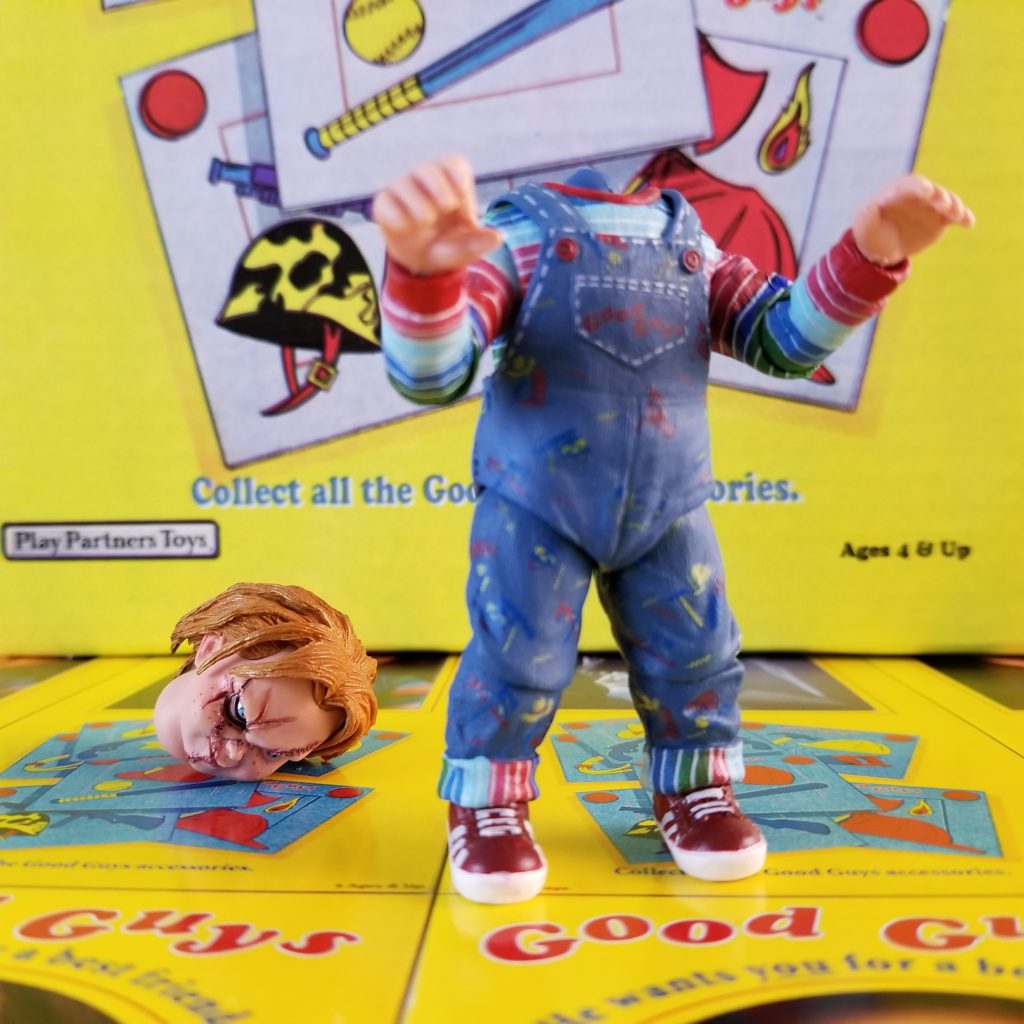 One of the most surprising and awesome things NECA decided to include is this damaged Chucky head based on his half sliced off face look in Child's Play 3 (Amber, you're favorite)  The sculpting and paint work here is outstanding as evidenced by these photos. It is gory and gross and looks perfect and the fact they went with this look just adds so much to this package. I think this one will be a favorite of people who purchase it even if it is based on one of the weakest films in the series. He also comes with the gun he uses at the end of the film. In general the paint applications on this release are close to flawless and the colors are vivid and pop, making him stand out from his other ultimate horror brethren.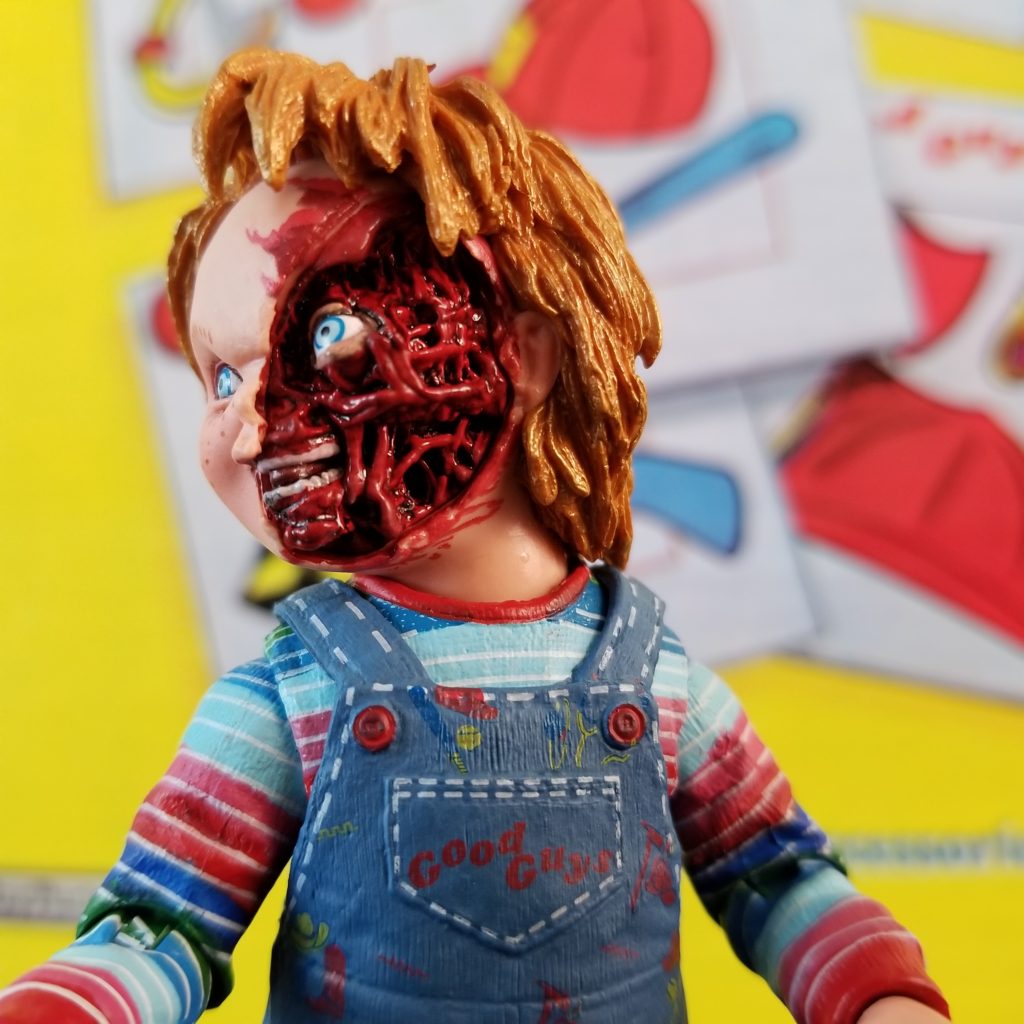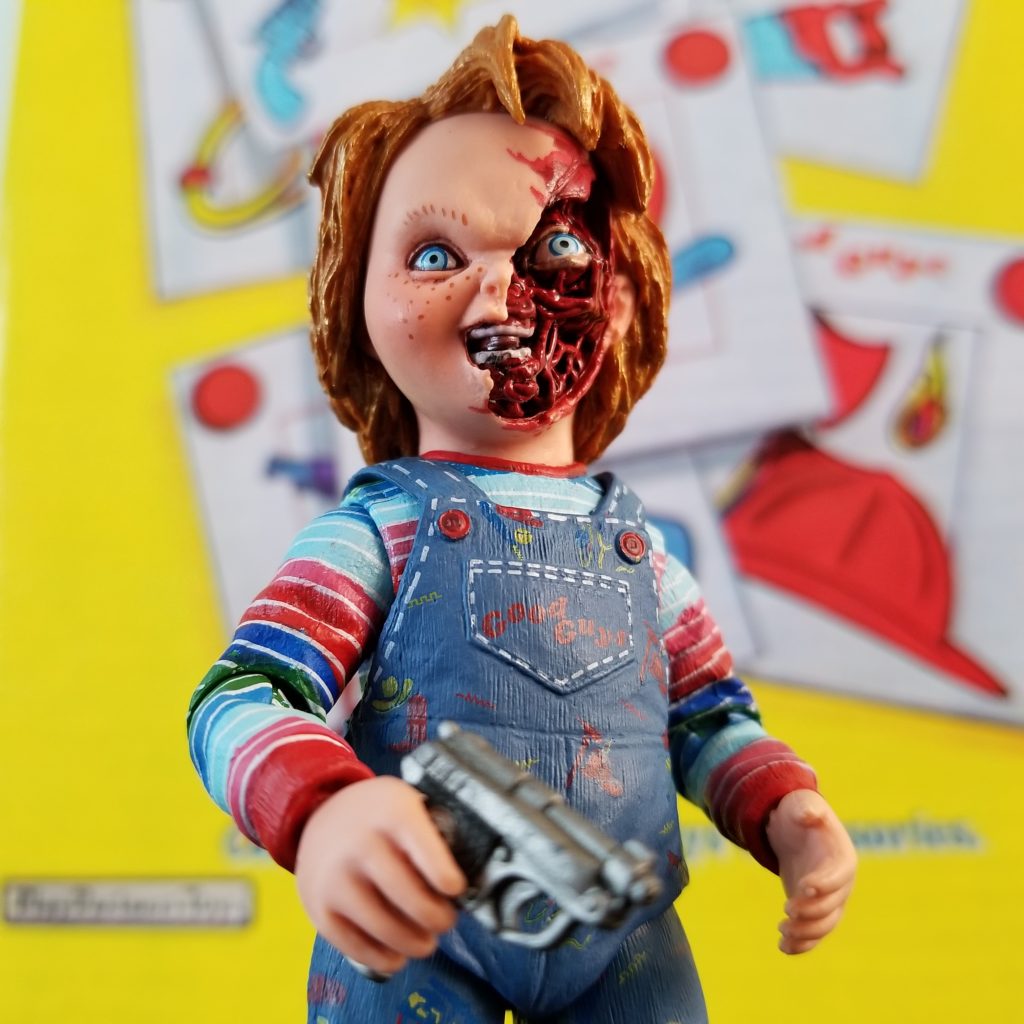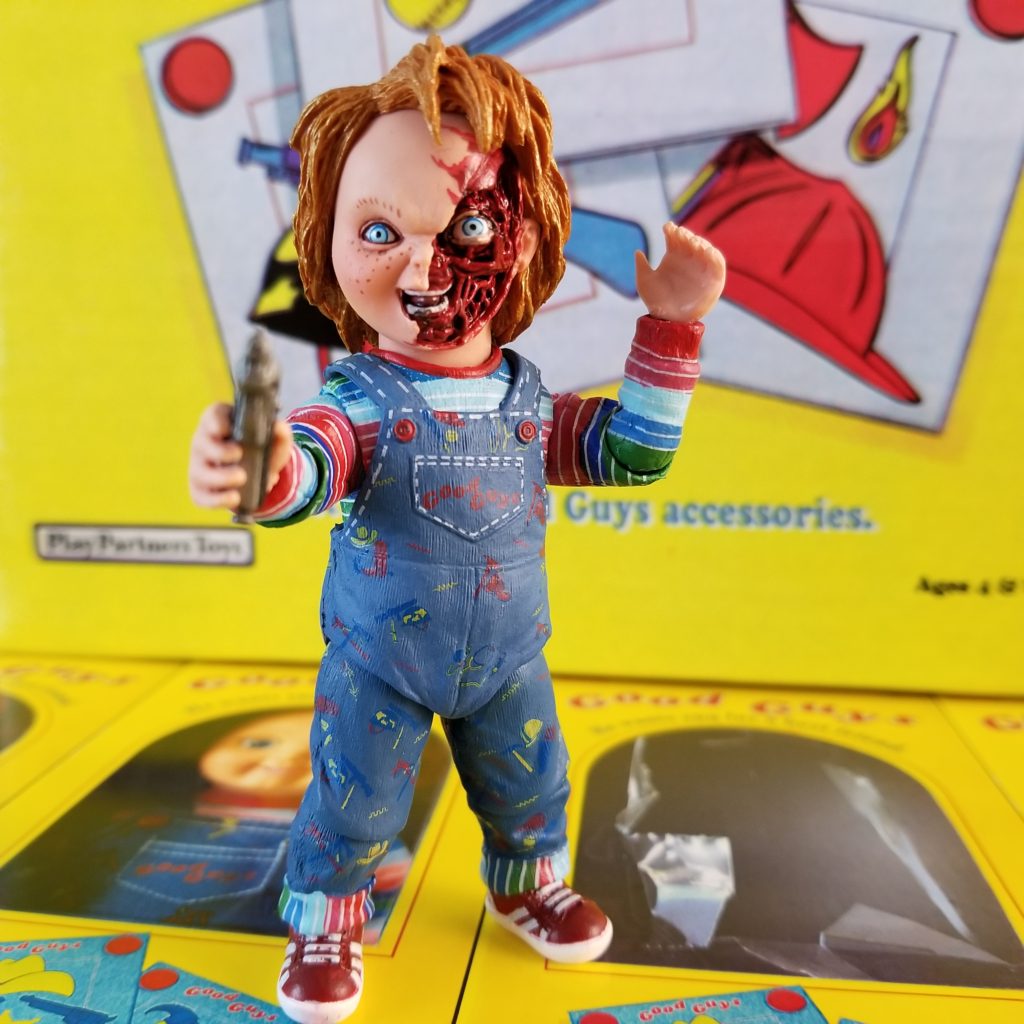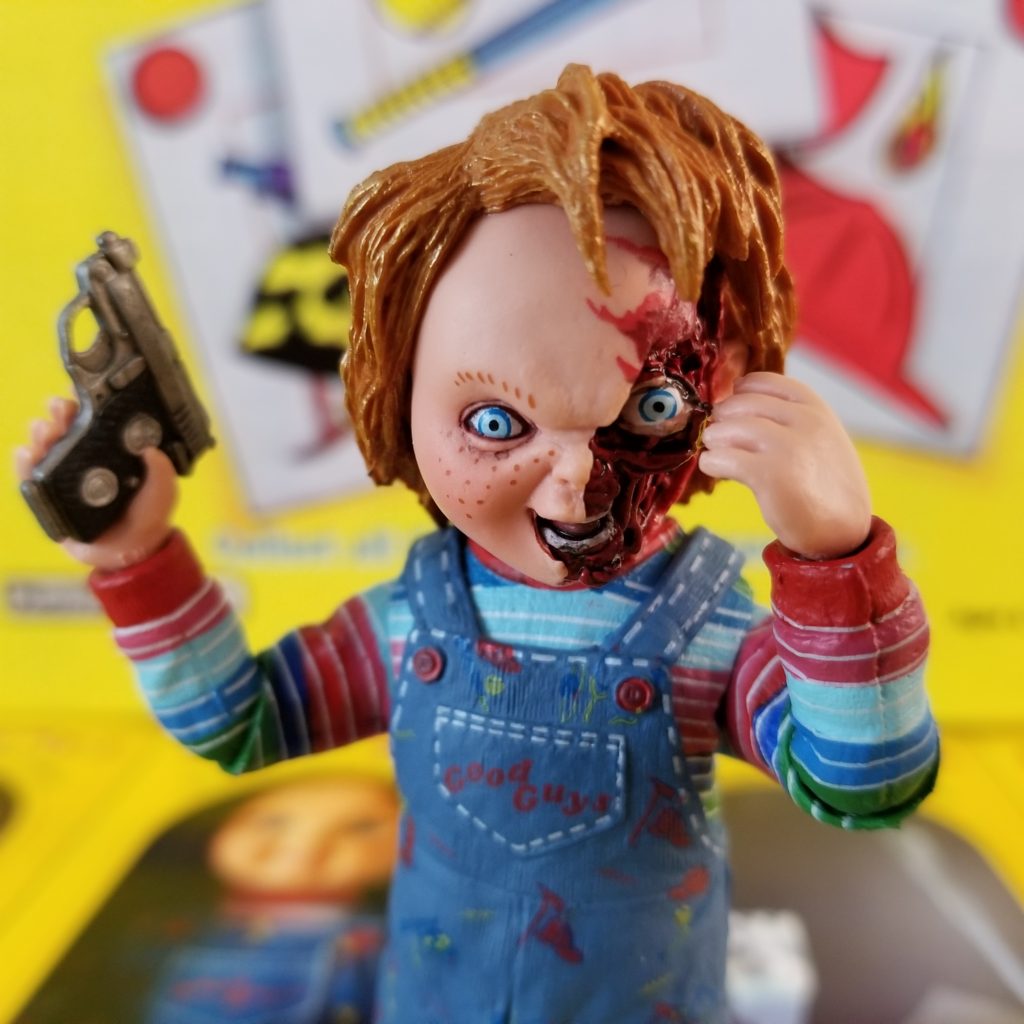 If I had any major gripe with this release, it will probably come off as asking for too much from an already stellar offering, but this damaged Child's Play 3 head makes me wish they had opted to also (somehow) include a head based on his non damaged look from either Child's Play 3 or 2. The regular Chucky head included here is based on his appearance in Child's Play 1 (my favorite look for him) but seeing as they included so many great accessories from Child's Play 2 it would have been awesome to have the head that matches that film. Personally I would have taken that over the Curse sculpt, but again I can see why NECA opted to include that one. Though you get glimpses of what the CP2/3 head would look like based on the clean half of the damaged head. Would have been a great addition and I tried to highlight that the photos below. It is hard to really fault NECA though and it sounds greedy on my part for sure, but it just needed to be said. They even went so far as to include his knife hand from Child's Play 2 (as well as the knife he makes it from) and this shows how NECA's attention to detail when it comes to these ultimate figures in particular is second to none. Also included from Child's Play 3 are the giant Knife he has in the military academy and the razor he uses to off the barber as well. Along with a very cool replica of the Good Guy Doll yard stick he beats Ms. Kettlesworth with in CP2.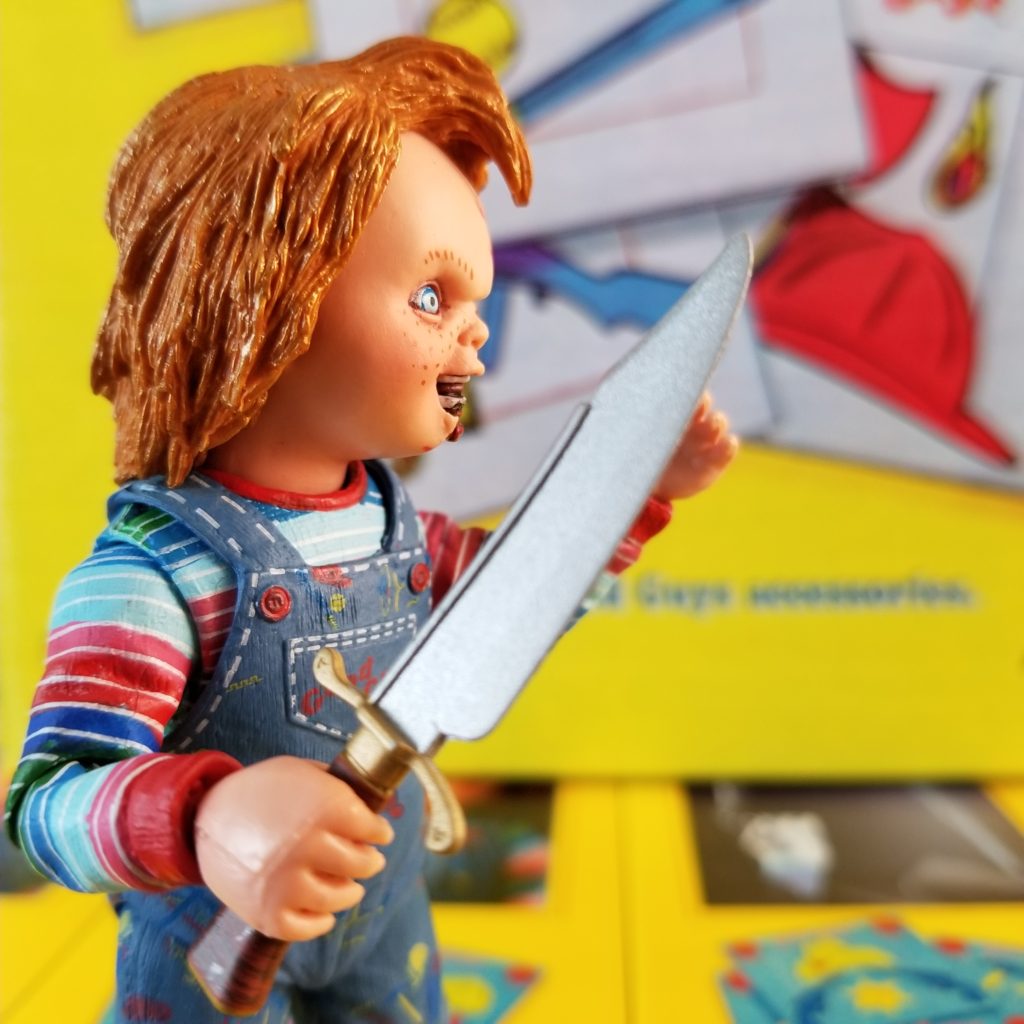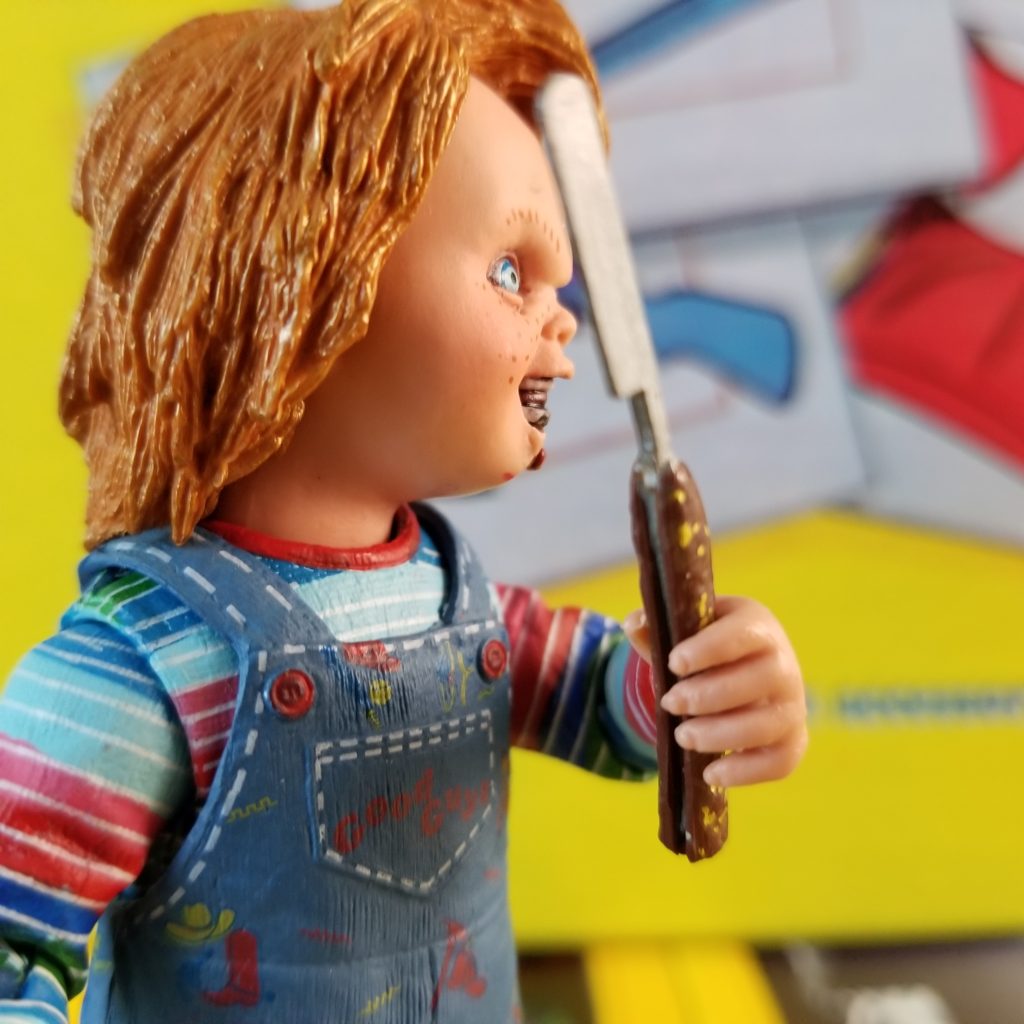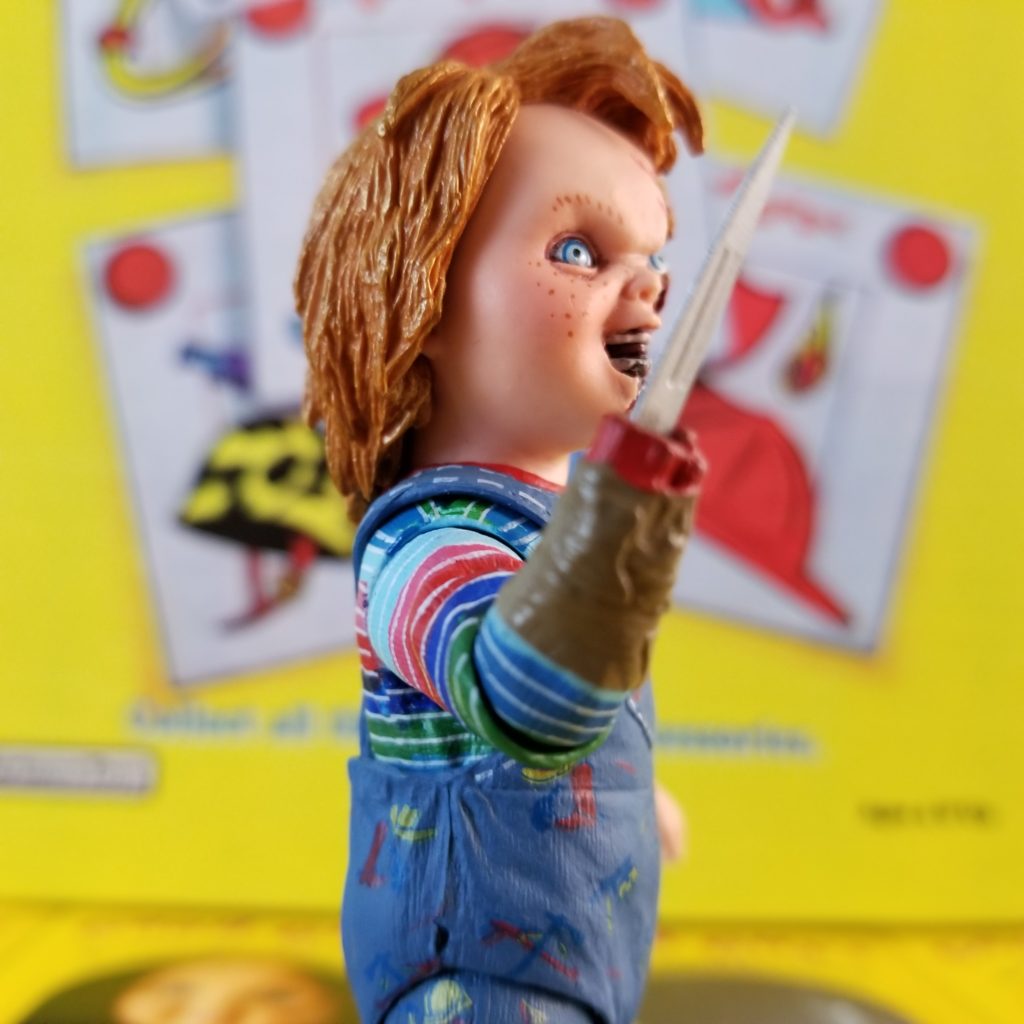 So while the Child's Play 3 head is really great and destined to be a popular display look for many, the main selling point for me with this set is the head sculpt based on his creepy humanized look in the original Child's Play. In that film for the uninitiated, Chucky's look progresses from doll to human as he spends more time in the doll body. His hairline recedes as his hair gets wilder and even his eyebrows grow. This is the look that first terrified me because it was so off and eerie and NECA has really captured this look and it is great to FINALLY see his CP1 look recognized and utilized for some merchandise. I imagine one of NECA's reasoning for not including the aforementioned "clean" head from CP2 or 3 is because they intended to have this one be their non damaged Chucky head and maybe they figured it was close enough and would be cooler to do the half face look rather than another clean one. Regardless, this CP1 head is so badass and creepy and I am forever grateful to NECA for doing it justice. As it is the Chucky incarnation I always wanted in figure form and of course to go with the original look they have included his iconic voodoo knife and baseball bat.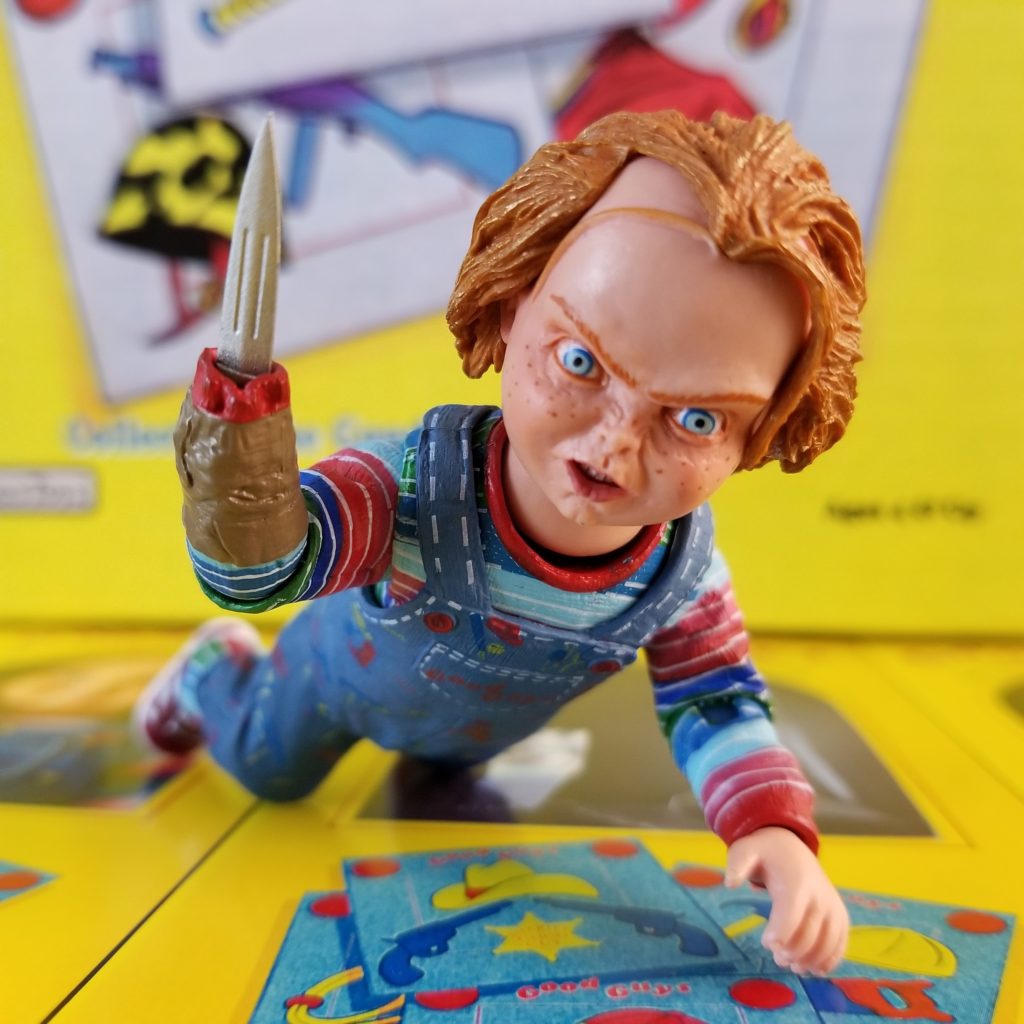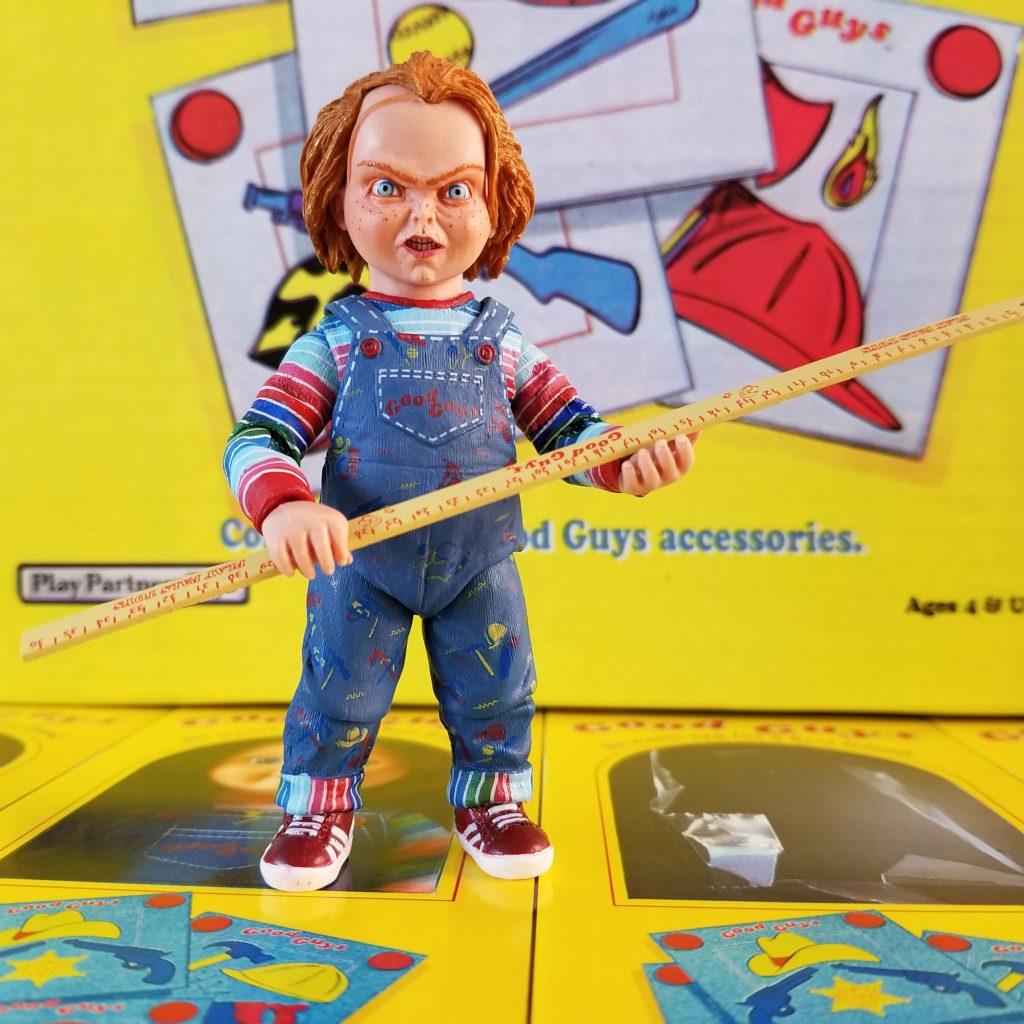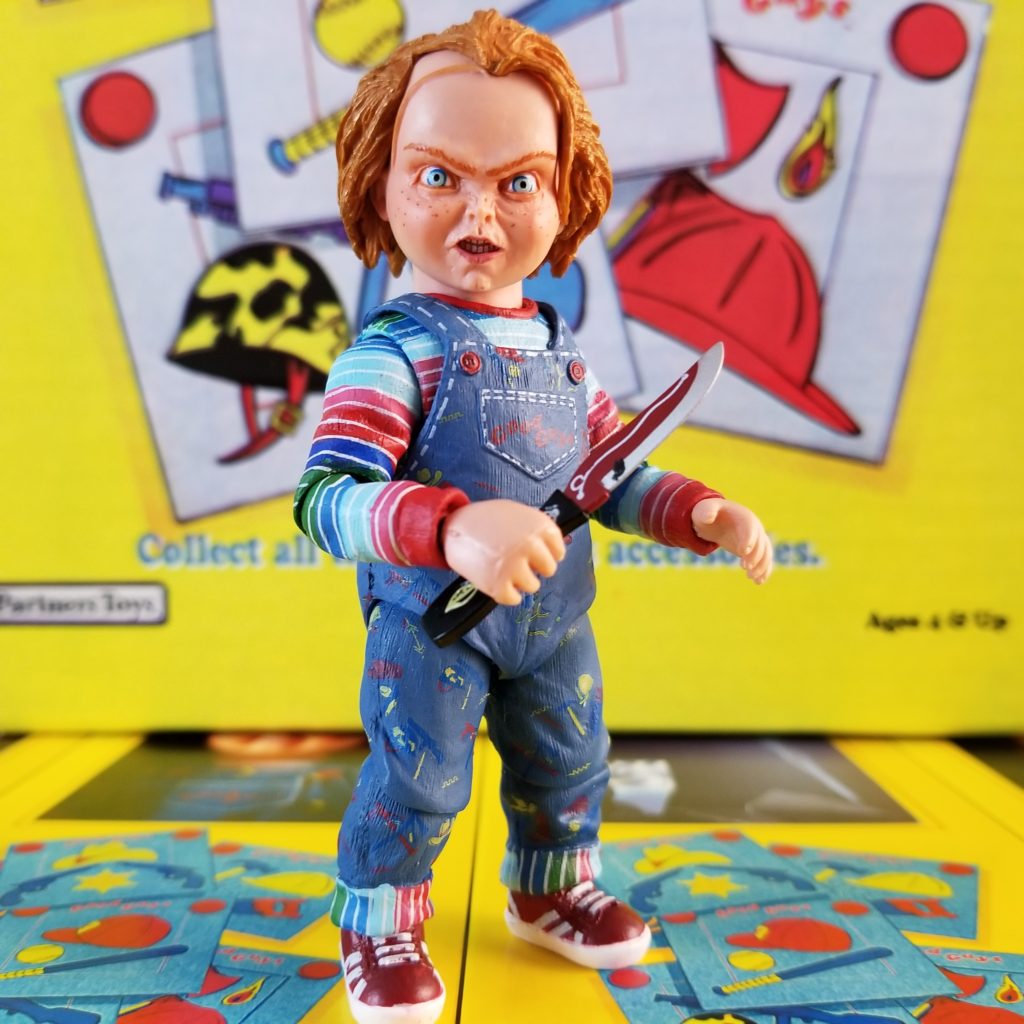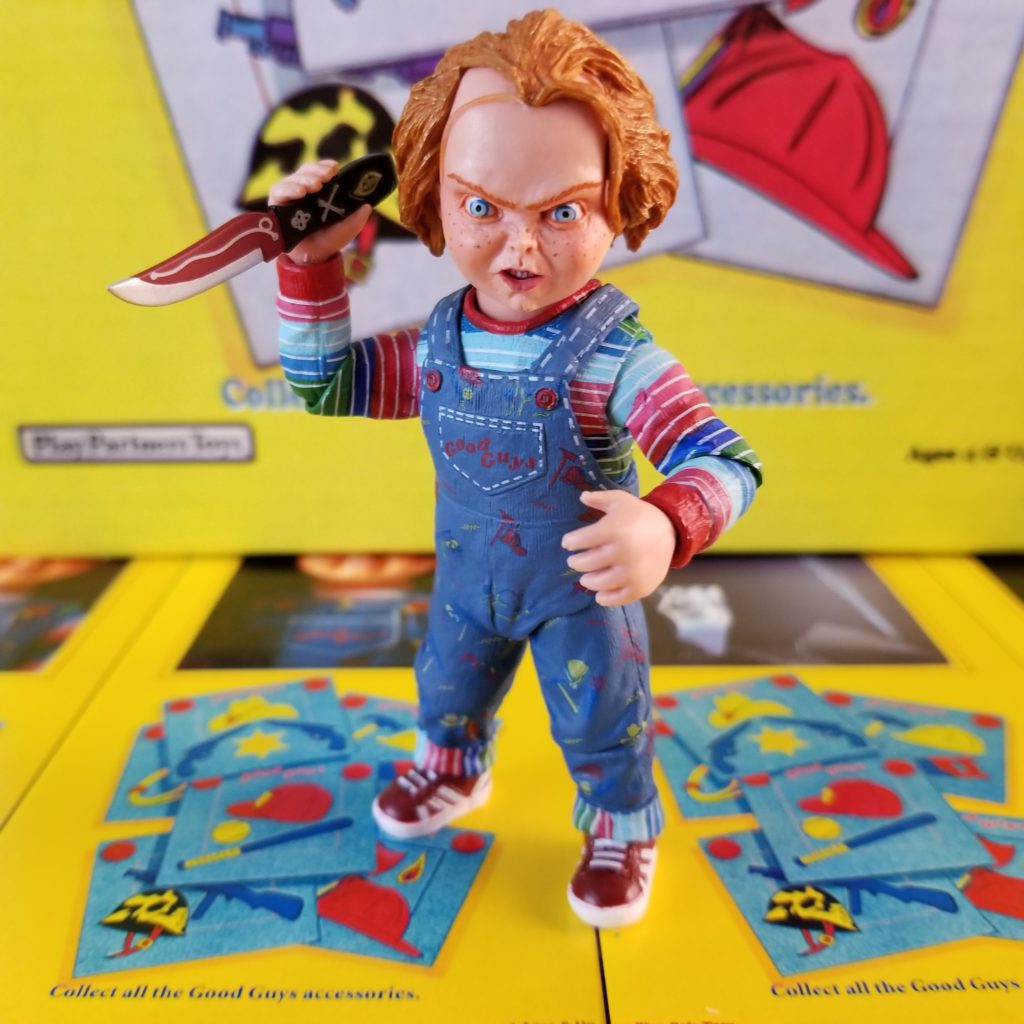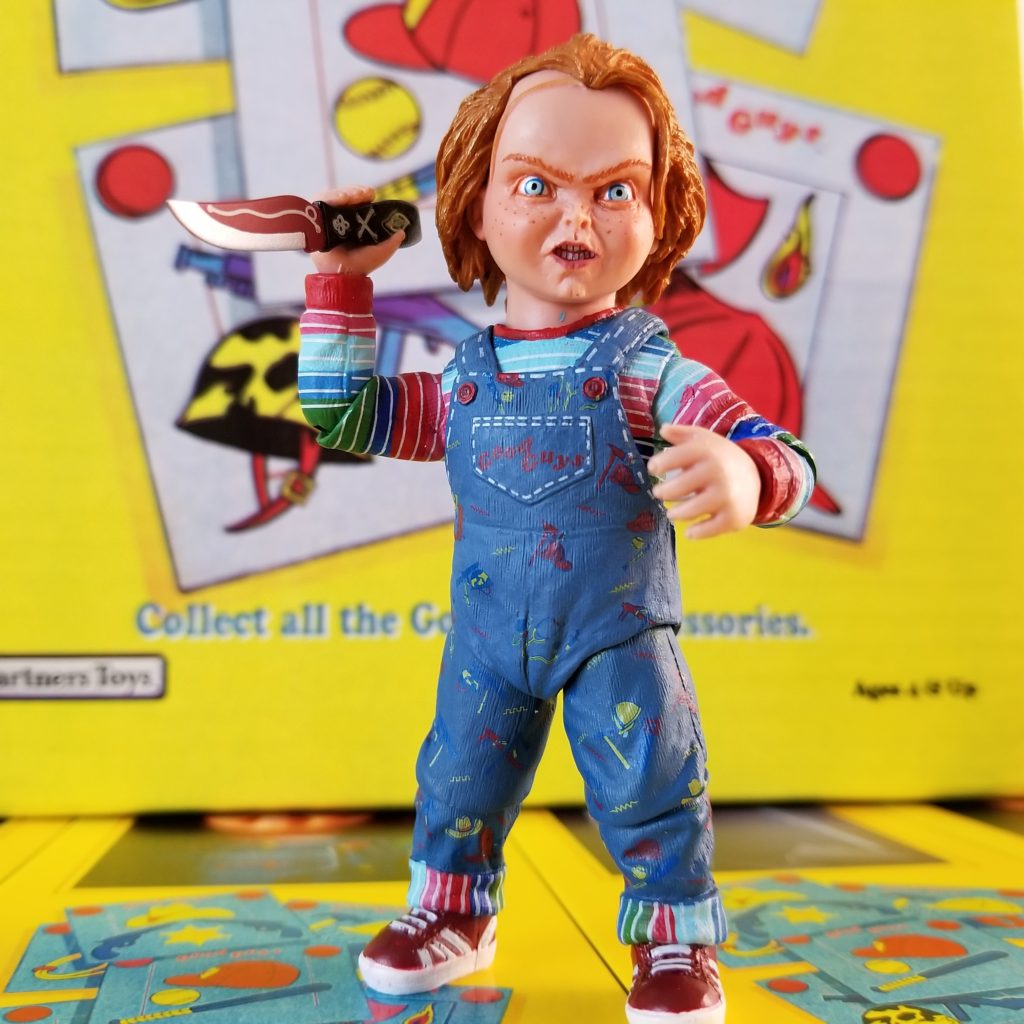 One thing you can really see in these photos is how solid the sculpting is on this figure, right down to the texture of his corduroy overalls and sweater.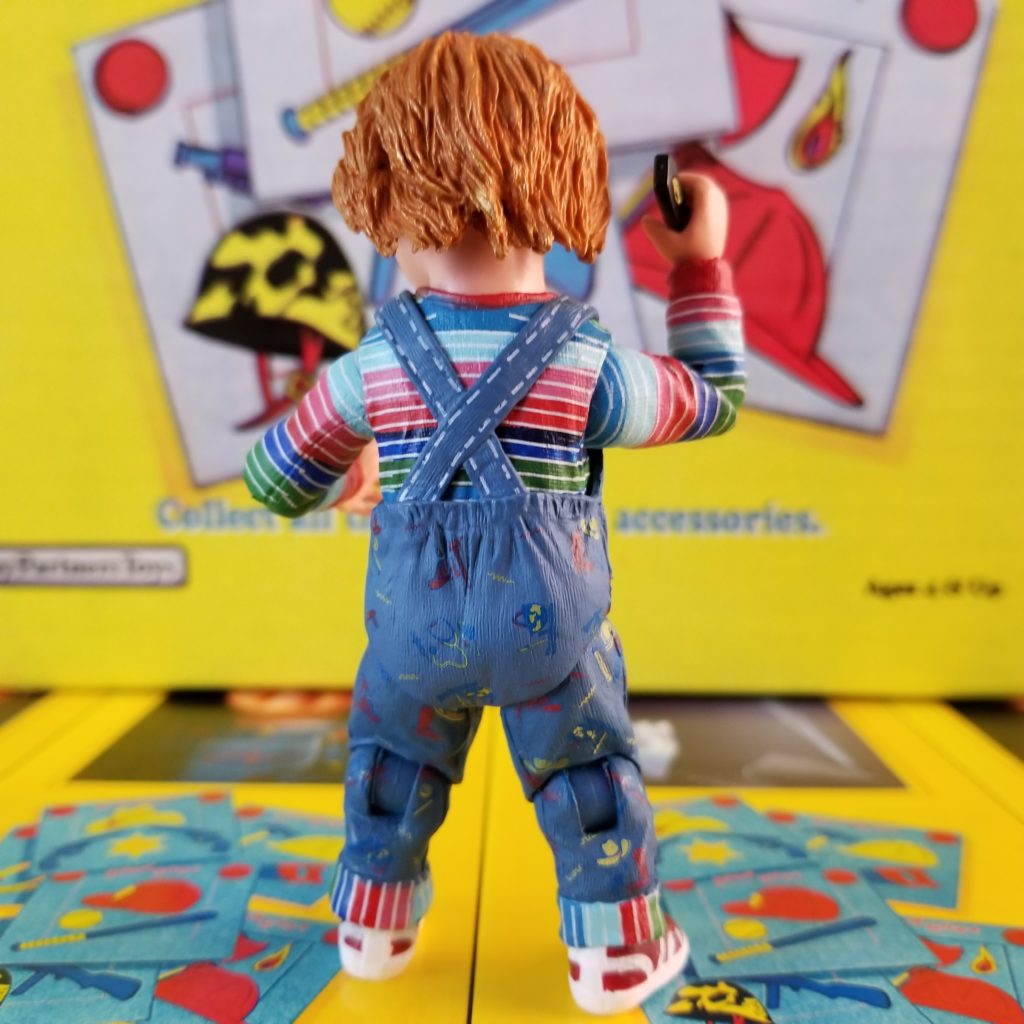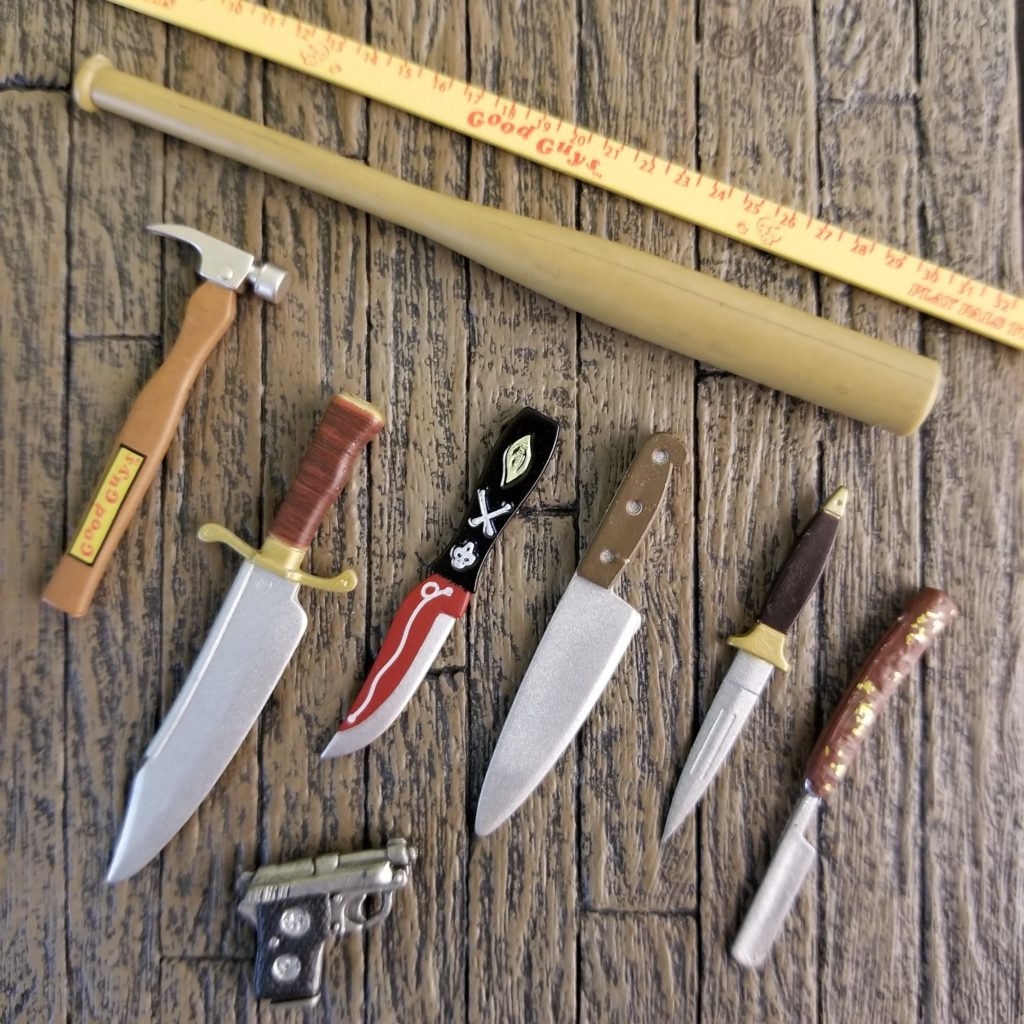 Another thing of note with this release aside from the obvious upgrade in sculpt and likeness, is the scale in which this new Chucky figure is in. Previous Chucky figures have all be highly out of scale with his horror pals as he was just far too large. This new smaller figure fits in much better with the Ultimate figures and that is a nice touch that frankly had been a long time wish from many fans that is finally realized. Below you can see photos comparing him with other NECA figures. While he is still a tad bigger in comparion to them than he would be in reality, it really looks so much better now when he teams up with his buddies.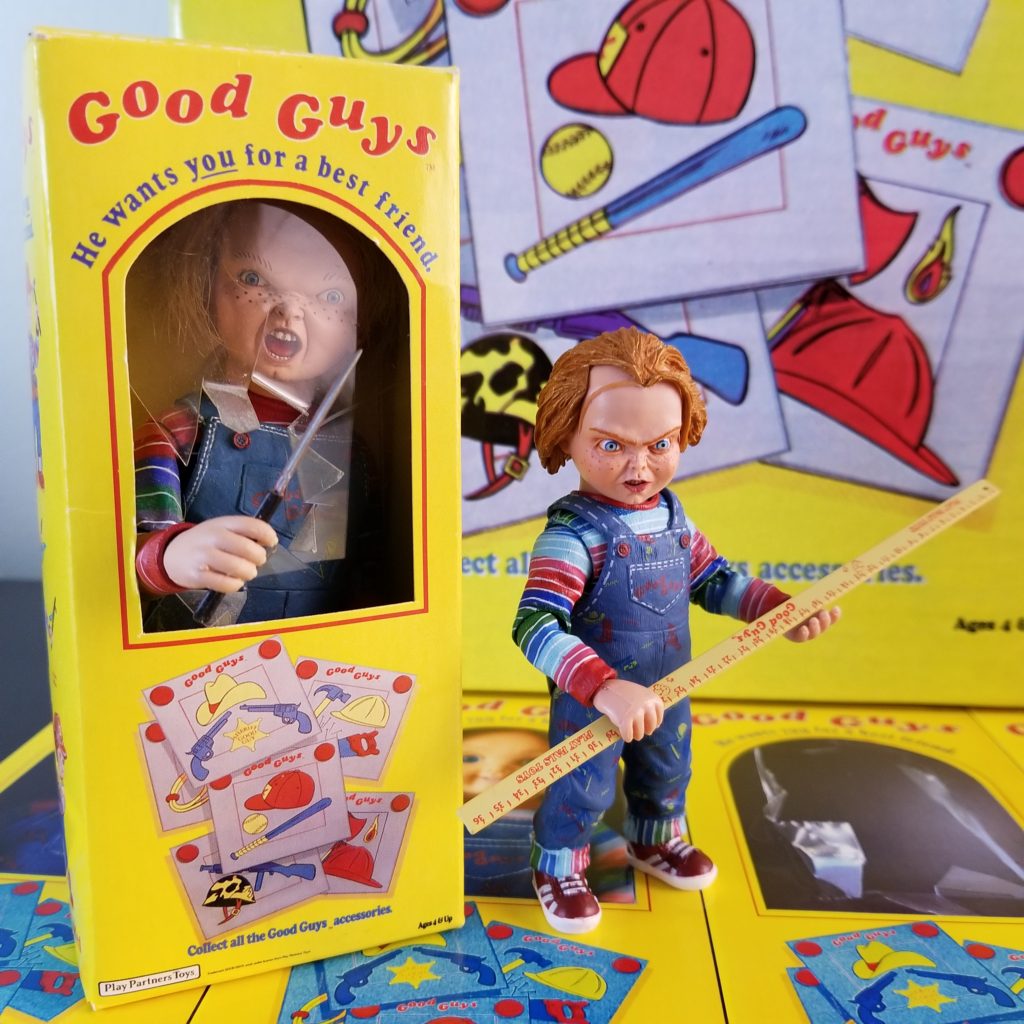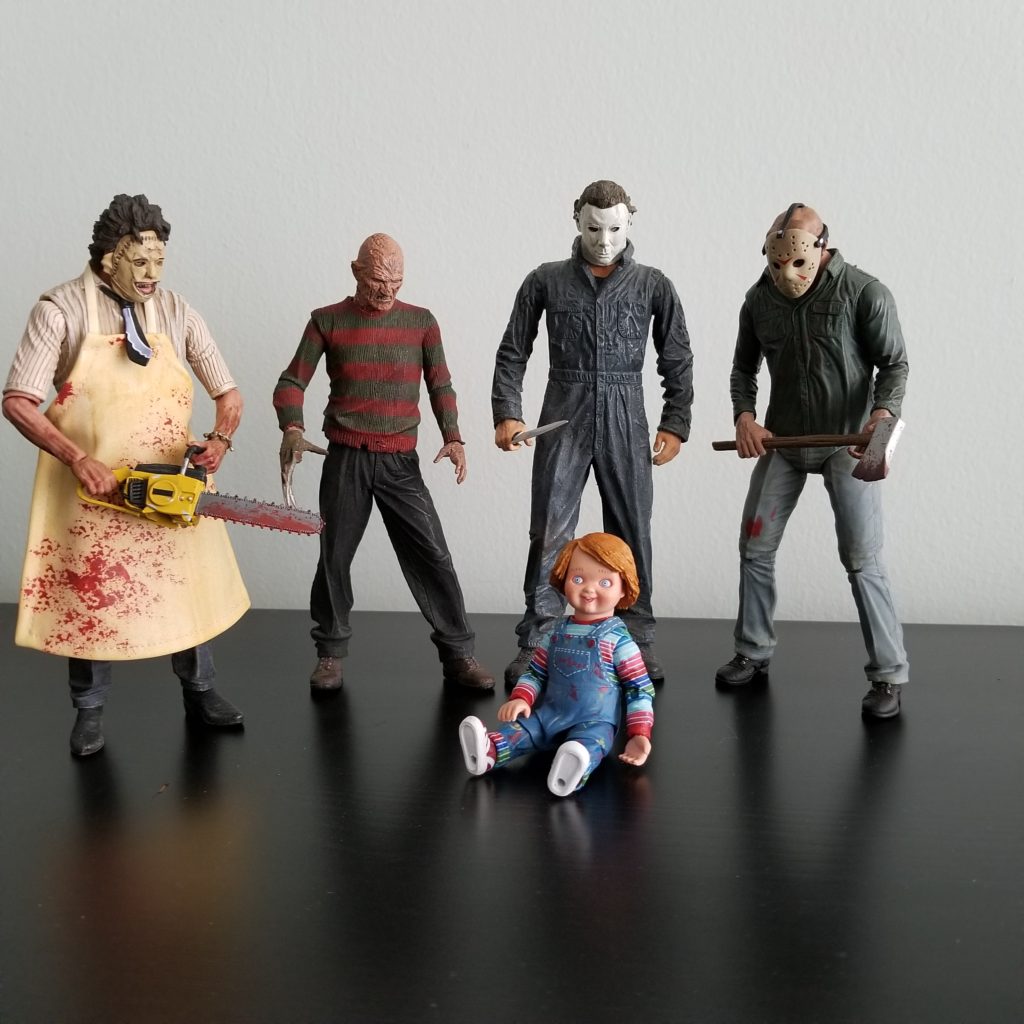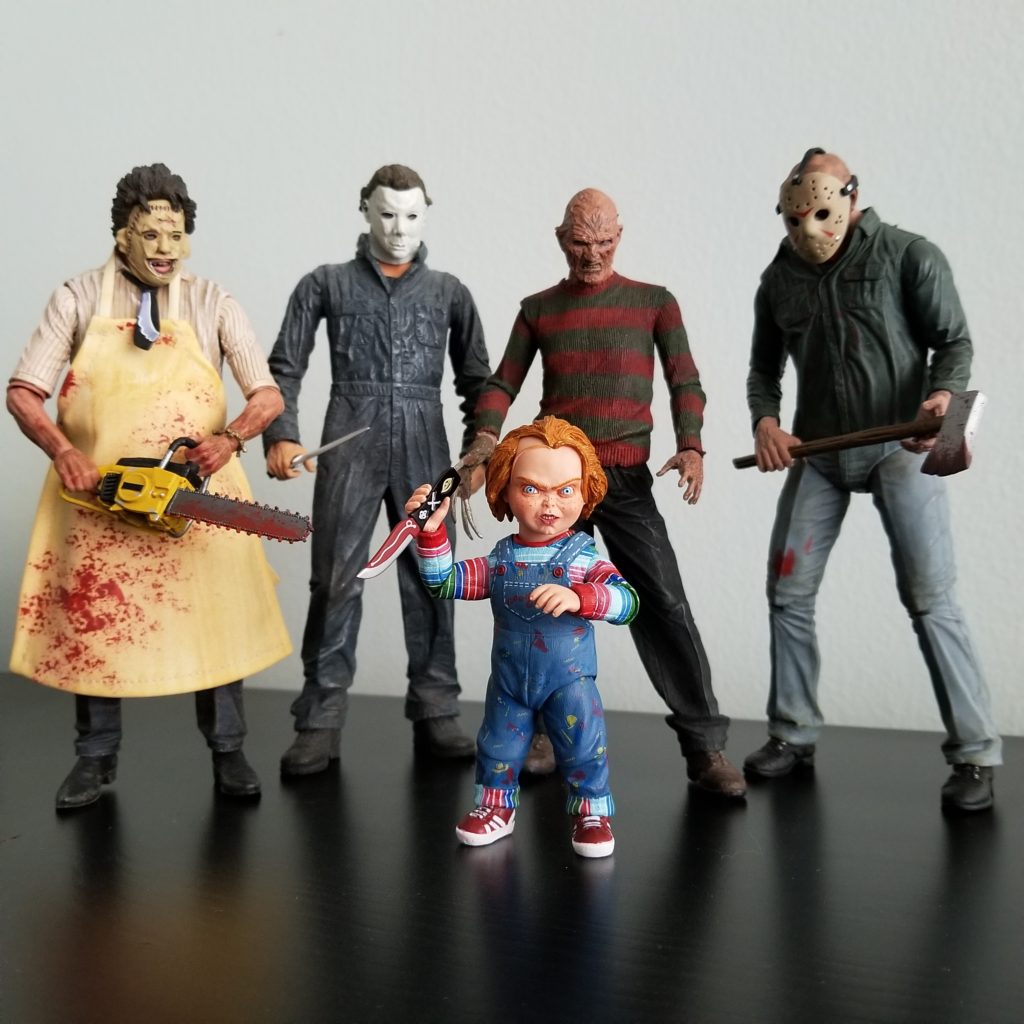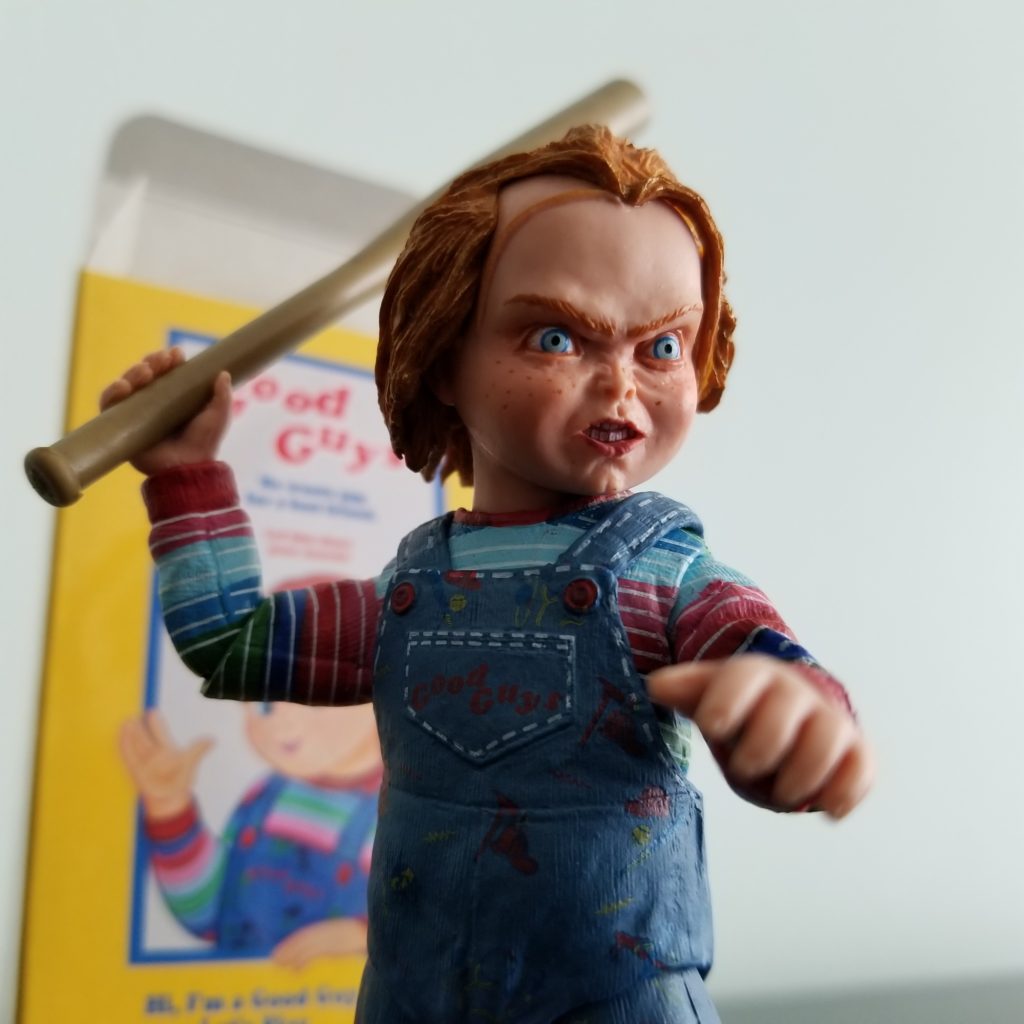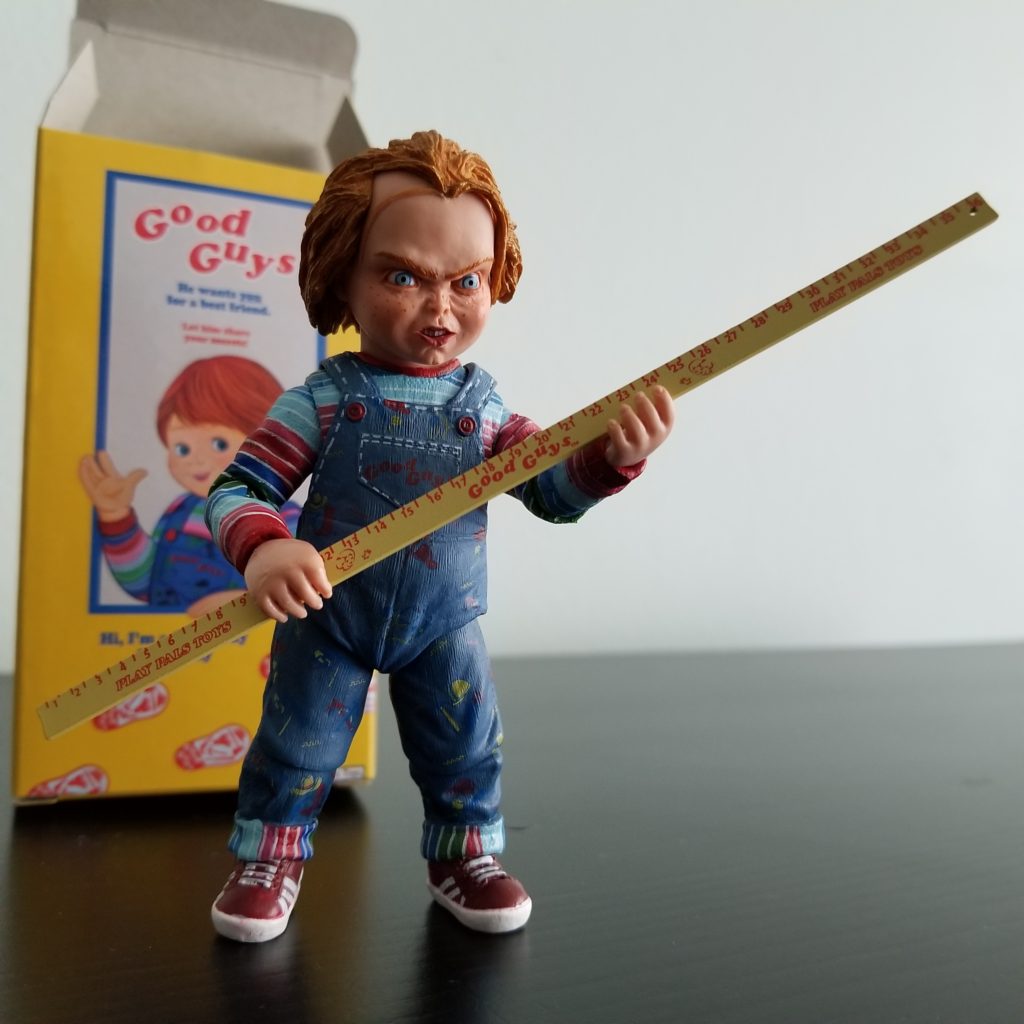 In the end Ultimate Chucky is a no brainer and a welcome edition to the Ultimate line. You get your moneys worth with everything that is included here and for someone who counts Child's Play as one of their top 2 horror films ever and Chucky as one of his favorite horror characters, this is a dream come true, regardless of what I would have liked to have been included. This is one of NECA's best releases ever and any Chucky fan shouldn't think twice about picking one of these up. It is the Chucky figure that horror fans have been waiting years for. Check out some more photos of Ultimate Chucky below that should help entice you to snag one of these while you can as I imagine they will go fast.
You can purchase Ultimate Chucky directly from NECA via their ebay store here