Popcorn Frights Film Festival 2017 Recap 1 by Amber 
This year marked the 3rd annual Popcorn Frights Film Festival and it did not disappoint. Taking place at the O Cinema theater in the Wynwood neighborhood of Miami, the festival showcased over 40 new horror films and shorts many of which played to sold out crowds of enthusiastic crowds of horror fans who all came together for the love of horror. There was a lot to process and cover, so we have two takes on everything one from Amber and one from myself. So lets get to it. 
Three years of terror and I am blessed to be in my second year attending the Popcorn Frights Film Festival in Miami.
PFFF is the first and only premiere horror genre film festival in South Florida and has grown to over 40 films and shorts.  The festival takes place at O Cinema in Wynwood and is run by Igor Shteyrenberg and Marc Ferman.
Upon meeting these two, it's evident they have total opposite taste.  Marc enjoys the slashers, B Horror movies, and fun entertainment. Igor enjoys the artsy, psychological, and thought-provoking horror films. For example, Marc thrives off of Wolfcop while Igor is memorized by Evolution. With this combination, the perfect balance creates the ultimate horror genre film festival.
Popcorn Frights prides itself off having a horror movie for everyone by boasting slashers, Sci-Fi's, thrillers, artsy, and straight up "who the fuck comes up with this shit." All in all, it's fun to experience all the films since they might be something you never expected enjoying.
Friday Night-Opening Night
Tragedy Girls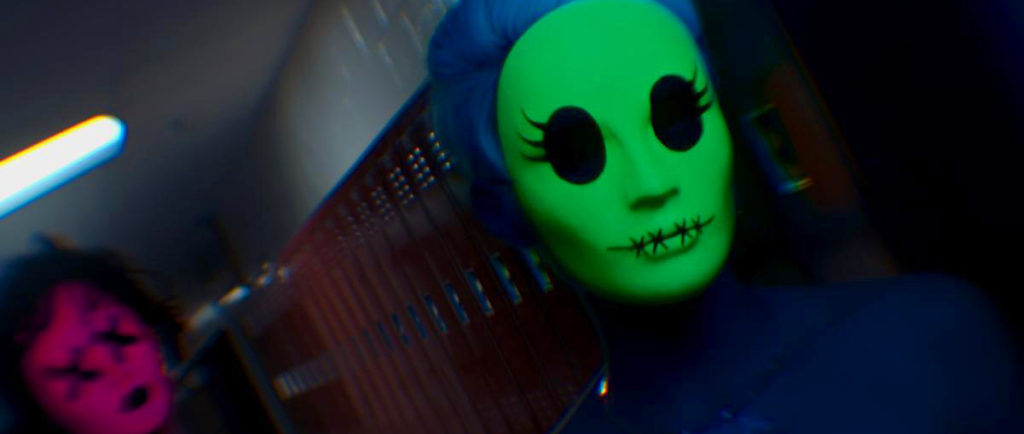 Two horror & social media obsessed besties start murdering people in their tiny town after kidnapping a serial killer.
This was fun, silly horror.  It never let up with its awesome flow and funny teenage moments. Between the awesome videos they posted on their social media to their unsympathetic attitudes, the "Tragedy Girls" provide shock and comedy throughout the course of the film. Both Alexandra Shipp and Brianna Hildebrand showcased the bright future they have in horror cinema, leaving the audience wanting to see more.  The guest actors were all excellent especially Craig Robinson, who has killed it in every horror comedy he's ever made.  The ending seemed expected, but I was still quite satisfied.
Scene Stealer-The battle between the girls and Craig Robinson.  It's pure horror comedy.
Saturday Night
Game of Death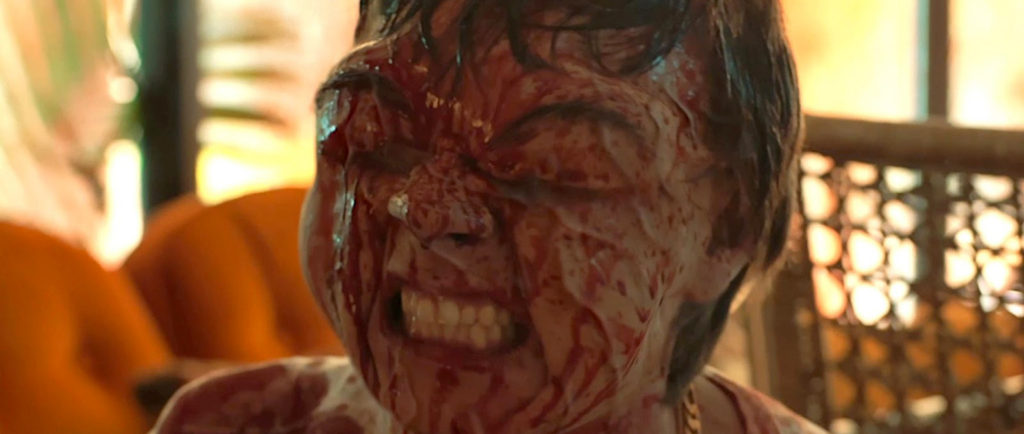 Seven teenagers escape to a cabin by the lake and discover a game which leads to kill or be killed.  When the game requires 24 deaths and a pretty fast countdown clock, its every person for themselves until they have reach the allotted body count.
Whenever Igor recommends anything to me, I am always skeptical. Ever since the confusion of Evolution, I have understood his creative, yet sometimes odd taste in horror movies. He claimed this was his favorite film of this festival and immediately, I side eyed it to Jason.  Right from the first 20 minutes, I understood its vibe. The shots and filming were decisive, poetic, and erotic. Early on, I learned the role of each crucial character.  While I'll admit, it got very, very weird at points, the overall tone of the film was captivating.  Suddenly, you are rooting for each character and trying to figure out whether this is ethical or not. If you can look past the bizarre scenes, there is some true entertainment and eeriness worth regarding.
Scene Stealer-The Game of Death board game takes its second victim and the players realize how the first death was not an accident and all they can do is play the game if they want to live.
Mayhem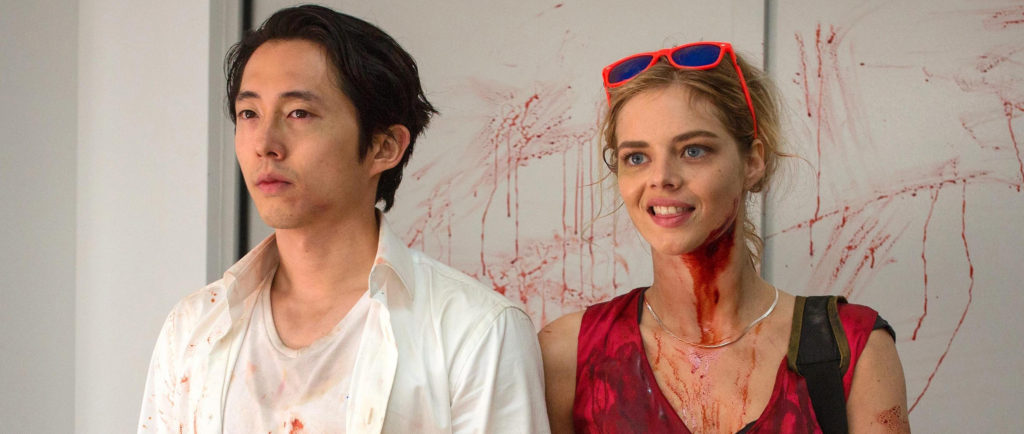 Two corporate office rejects team up and battle their way to the higher ups during an infection outbreak, which allows you to act on impulse without consequential thinking.
Director Joe Lynch introduced the movie and immediately, his energy pumped through the crowd.  It was so much fun from start to finish and he really expressed that in every scene and his own introduction.  All you need to know about this movie is how much fun it is and how original the concept is. Working for a corporate company sucks (I should know), but this movie allows your deepest work desires to come to life.  The acting was top notch (but we all knew it would be) and it was one of the few films at the festival, I really felt the audience's inclusion on.  After the film wrapped, each member stayed to ask questions and provide comments about how awesome this whole movie was from start to finish.  Everyone was having so much fun with it. It was well made and was in my top three for the festival!
Scene Stealer-Anytime Steve Yeun and Samara Weaving were on screen due to their undying chemistry.
Sunday Night
Dave Made a Maze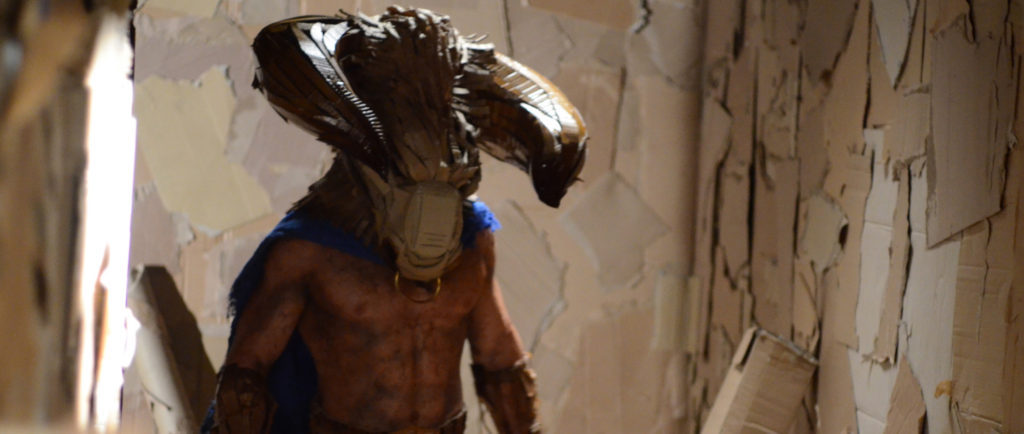 Basically, Dave gets lost in his maze creation and his friends come to look for him.
The creation, directing, and acting were all fantastic.  It was a privilege watching this film come to life. I promise you, that you will have seen nothing like this before, nor probably anything close to it in the future.  The only true setback was length, as I felt the film dragged a bit in some areas.  This is not particularly a horror film but should still appeal to most horror fans.
Scene Stealer-The first victim is claimed and you watch her mesh into the maze.
The Endless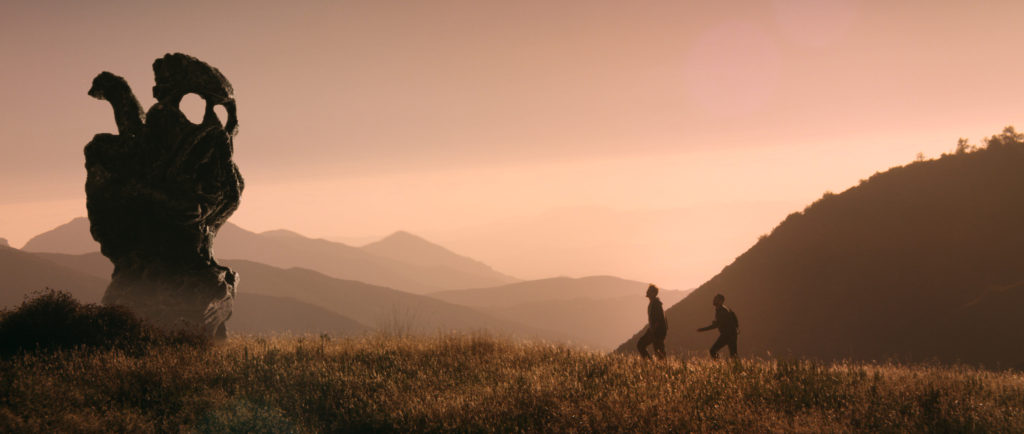 All I can say about this film is it felt endless. Ok On to the next one. Lol JK Jason. I'll write something nice for the sake of Igor.
Two brothers return to the cult they had escaped years before.  When they start witnessing abnormal happenings, they begin to question whether they were mistaken about being incorrect about the cult's ideals.
The movie's twist was truly shocking, but it took too long to get to the point of the film. The shots were beautiful and concept was something I never have encountered, but I literally left the theater for 15 minutes and did not feel even slightly sorry about it. It should also be noted that Jason texted me "U left me to die in here with this movie!?" 'Nuff said.
Scene Stealer-The twist reveal between the main character and a man who lives nearby in a barn. It was super awesome and slightly saved the movie for me.
Better Watch Out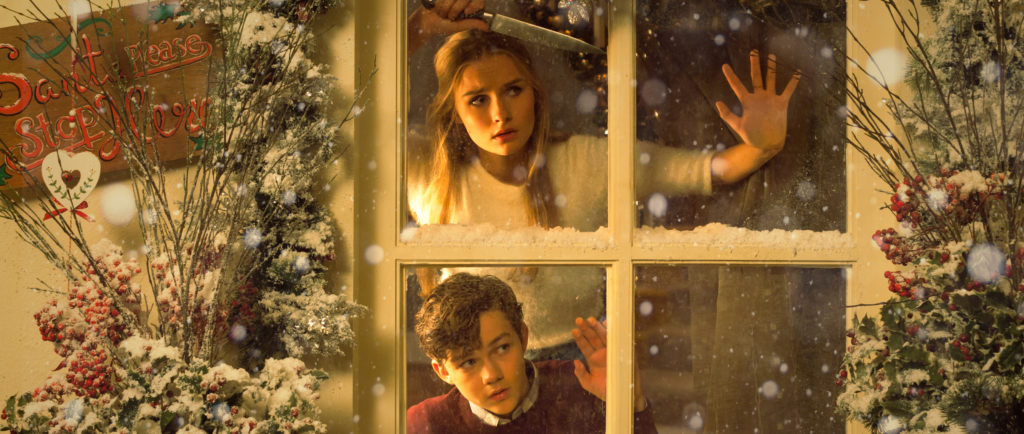 A babysitter and a pre-teen are visited by unexpected guests, but the intentions and plot are not what they seem.
The Home invasion genre can be fun, but it's nothing I haven't seen before.  These were my feelings going into this film. Luckily for future fans, this really is nothing I have ever seen before!! (Yay!) This was my second favorite film of the festival and I had no idea it ever would be! Christmas horror. Is. My. Shit. I look forward to watching Black Christmas-the scariest film to date in my eyes, Black X-mas-mediocre yet fun remake, and Krampus every year on Christmas day.  All bring life to the horror genre and are so much fun, yet entirely terrifying at the same time.  I can safely say this movie will become an instant Christmas horror classic and one I will view every year with my marathon. The film never holds back. It constantly digs deeper and deeper to see how far they can push a pre-teen horror movie.  Levi Miller and Ed Oxenbould show such depth and what a bright career they both have ahead of them. Whatever the scene, each one adapts beautifully, making the twist in the middle as shocking as ever. Do not miss this fun, well thought out movie which carries such creepy Funny Games vibes to it. The ending makes it 100% worth it!
Scene Stealer-The final five minutes of the film left me shocked. I literally mouthed "this is fucking amazing."
68 Kill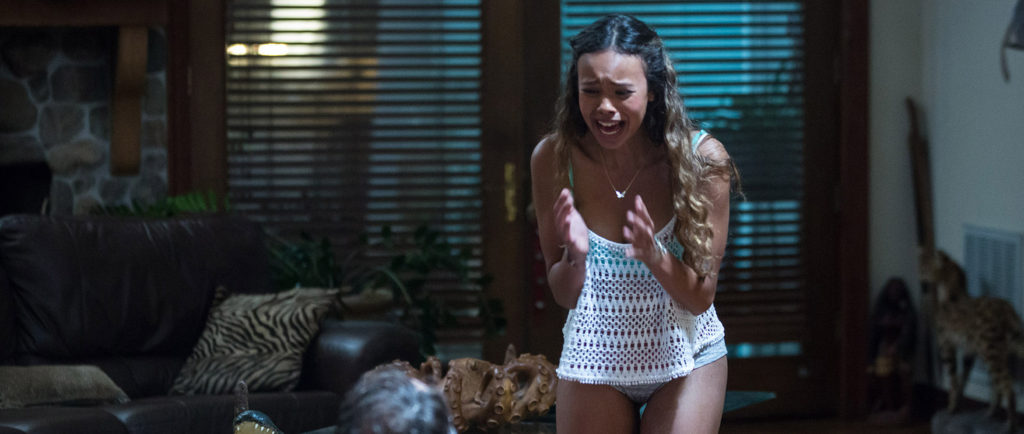 A man's hooker girlfriend, convinces him to help her steal $68,000 from her client, promising this was just a run-of-the-mill burglary.  When she kills the client, he begins a rat race for his life and keeping the blood money.
I will definitely need to view this film a second time.  It was 1am, after ten hours volunteering and I was really starting to fade. I was still laughing in disgust at some very fun scenes, but my energy was down. The acting was fun and the storyline took many delightful unexpected turns.  There was huge praise for Matthew Gray Gubler who was believable and enjoyable throughout the experience.  I felt myself rooting for him, even though he's only getting $68,000 and has incredibly bad luck with women. The ending was awesome and I'm glad I did not expect it!
Scene Stealer-Captured Gubler's crazy girlfriend shows up with her brother at the trailer park and go totally ballistic on everyone in the sickest almost perturbing way possible.
Monday Night
Lake Bodom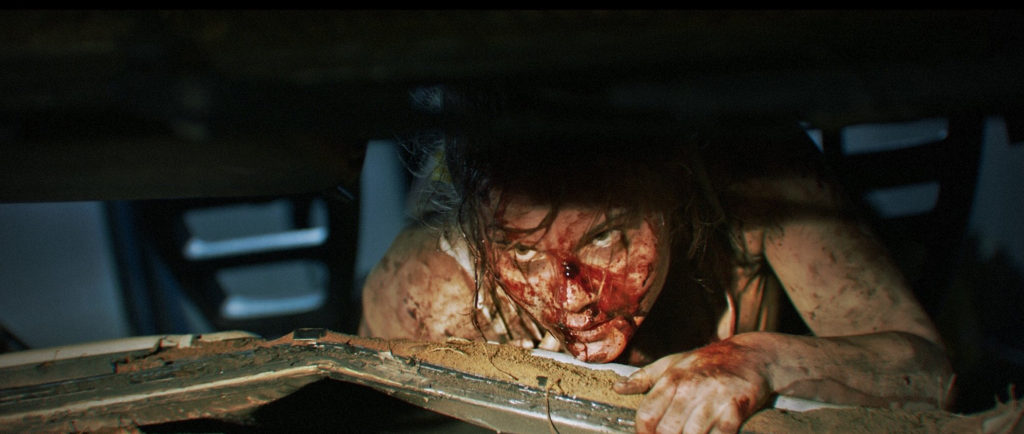 A girl escaping recent embarrassment, her loyal best friend and two boys obsessed with a gruesome true story go to the campsite of a murder that took place decades ago. They soon find out if the killer is still a resident of Lake Bodom.
I wanted so much more for this Finnish film.  There were a few twists.  Every time you were sure of where the storyline was going, it surprised you with an entirely different story track.  This would have been fantastically shocking; however, each twist felt painfully obvious.  There is praise for the scenery, jump scares, gruesomeness and overall tone of the film, but I sadly feel this film will become forgettable for me in just a few weeks.
Scene Stealer- Ida has to jump into the lake to go retrieve the keys for the car. So much creepiness involved.
Super Dark Times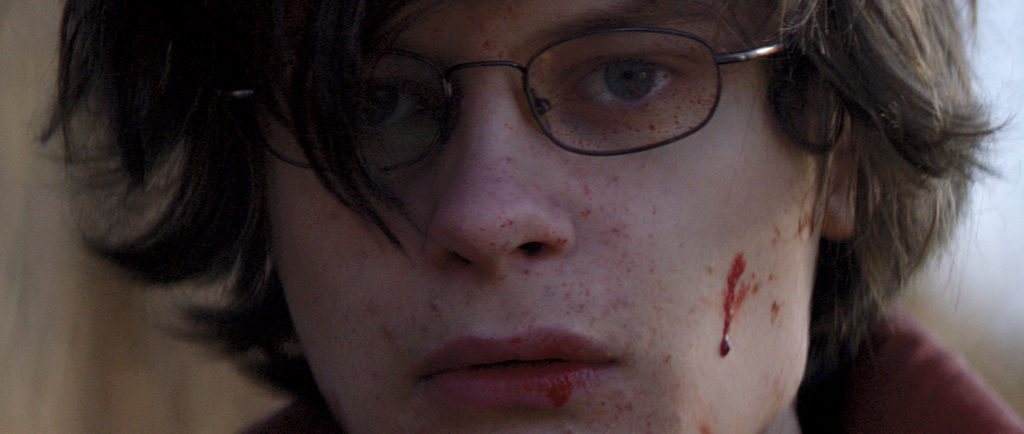 Four teenagers navigate around girls, drugs, and high school.  When a tragic accident occurs involving the four, the course and structure of their lives unwind into complete chaos.
Since I wrote an entire reaction for this film, I won't go much into detail here.  Just know I was blown away by every aspect of the film.  Every scene in the film was necessary in adding to the gripping finale. It is my favorite by far and will be a film I take on with me throughout my life. It sets the new standard for coming of age horror and incredible debut for Kevin Phillips. It's been almost a week since I witnessed its perfection and I am still raving about this film to everyone I know. Only a few movies top this one in 2017. Pretty safe to say this film should speak to people who are afraid to attend festivals for its weak line-up.  This film was easiest the strongest, most captivating film for me.
Scene Stealer-Anytime Charlie Tahan in on screen I swear. But also, when Owen Campbell has his first nightmare in the living room. I was completely freaked out and could really commiserate with him and his guilt. Finally, the last ten minutes had me waving my hands at the screen from how over satisfied I was with how this played out.
Tuesday Night
Sequence Break

As a techy arcade game worker falls in love with a cute girl gamer, he discovers a new arcade game.  This game choses him and he becomes enraptures within it every time he plays.  Soon he'll have to pick between the girl and the game.
The uniqueness of this film carried it throughout, not ever disappointing.  Many of the shots in the film were beautiful and entrancing.  You could feel the character give himself to the machine in every way.  Suddenly, the joystick and buttons become like mush as he almost becomes one with the machine.  This scene was one of the most powerful scenes throughout the festival and truly represented the film's concept.  Utter applause for Graham Skipper here!!  Also rave review for the actress Fabianne Therese.  I could feel her attraction and excitement for the arcade and her co-star.
Scene Stealer-Oz starts understanding his gaming movements with the arcade game and become almost trapped inside its pattern. Where playing the game becomes an orgasmic experience for him.
Thursday Night-Closing Night
Savor (short)
A man sits down to a meal not knowing whether it might be his last.
Early on I decided not to review shorts as it would become a handful; however, this short truly impressed me.  Igor setup the short perfectly, informing the audience of its lengthiness. He went on and on about how we better get comfy because going to be awhile. He never led on what it was about and I am so entirely glad. Fucking perfect!!! It is on YouTube right now!! Check it out asap!  Savor is up there with the greats of Lights Out & Gwilliam.
 Scene Stealer-The last two seconds! I almost stood and applauded for this short.
The Bride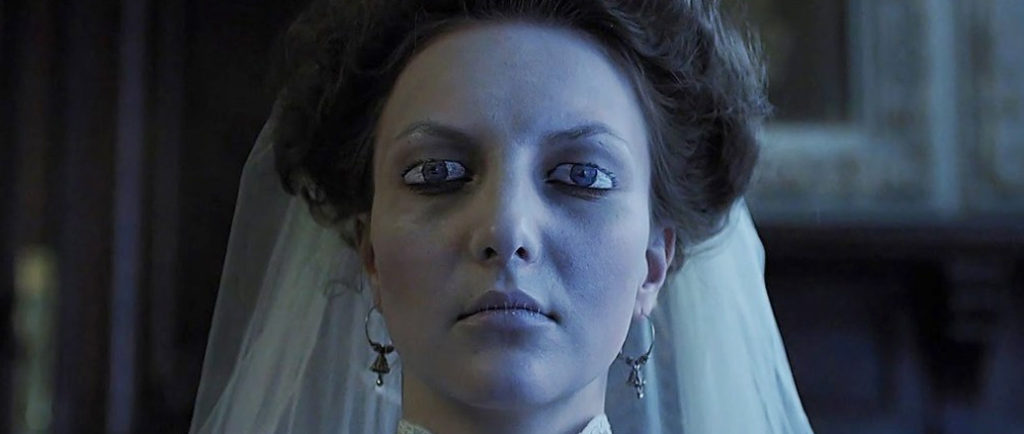 A newlywed bride Nastya meets her husband's family the weekend of their "traditional wedding ceremony" which is to follow their previous civil ceremony. Soon after arriving in their old Victorian style house, she soon realizes she is needed for a sinister family ritual revolving around an ancient evil.
Going into this film, I was expecting the Russian film's era to be set a few hundred years ago.  And while the film opens with a scene explaining how the bride came to be, I was pleasantly surprised to see it modernized to present day. Nastya was a beautiful young woman who portrayed her emotions realistically.  I felt her love, terror, and confusion. She seemed very smart early on, knowing she was in danger and was constantly trying to find a way out. While the film unravels, unfortunately, so does the plot.  The strengths here were in the jump scares, storyline, and special effects usage.  Ultimately, the weaknesses prevail with a poor ending and silly character decision making that left most of the crowd frustrated. If you like foreign horror, I would see it, just expect to be rolling your eyes at the characters moves by the end of the movie.
Scene Stealer-Nastya is locked in a coffin and the film's evil entity eerily emerges from the darkness near her feet.
The Hatred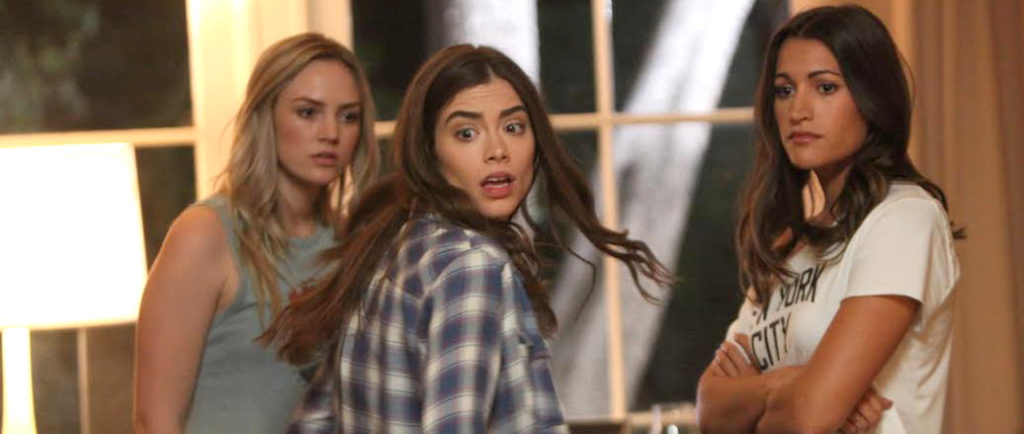 Four college girls travel to their college professor's new house for a weekend getaway.  As the professor's young daughter arrives, she and the girls notice they are not alone and something more hateful dwells with them.
While surfing Facebook a few weeks ago, I noticed this trailer getting quite the buzz.  After viewing, I was definitely intrigued, but also extremely confused.  It seemed like there was so many different themes  going on and I became scared it would be a reflection of the film.  The Hatred starts out back in the 1950s at the aforementioned house with a conservative family and a very strict father.  After a shocking event takes place, it skips to present day where four college girls are going on a weekend getaway to the the very same house. They are joined by a professor's daughter, who is dropped off by her fearful tutor. As the movie plays on, the girls quickly realize something is rather creepy about this home.  The jump scares were fun and I definitely heard shrieks of terror from the crowd. While this was fun, it turns out were too many spirits in this house. I would love if there was just some focus on the father as he carried, when on screen, so much of the film in the second half. If you are looking for some B horror fun, you'll definitely be pleased.
Scene Stealer-Layan is leaving her room and is shocked when she sees an eerie figure in the hallway and drops her cell phone darkening the screen.
It should be noted I missed Jackals, Terrifier, Another Wolfcop, Happy Hunting, Psychopaths, It Stains the Sands Red, Still/Born, and Dead Shack.  I do thoroughly trust Jason's reviews here as we have such similar taste, so make sure you check out his article. I heard rave reviews for Terrifier and am dying to check it out when I have the chance.  Everyone explained it as disturbing yet totally necessary for the festival.
As for shorts, I was pleasantly surprised with Fucking Bunnies and Level as both are worth viewing! Hopefully they come to YouTube soon! I also got to see some awesome shorts during Homegrown.  Excited to make that a festival tradition.
Throughout the year, Popcorn Fright's runs movie premieres and anniversary screenings for beloved horror and cult status films. This year included such titles as The Lost Boys, Hellraiser III, Scream 2, and Evil Dead 2 among others. Look out for some awesome anniversary screenings coming up just in time for Halloween.
Until next year fellow horror lovers.