October, every horror fan's favorite month of the year. An entire month dedicated to finding the spookiest things to do and entertain ourselves with. Whether it's planning horror marathons, purchasing horror and Halloween merchandise, carving pumpkins, or visiting haunted houses and attractions, every year more and more events take place in the month of October to capitalize on the season. This past year I lucked out and it just so happened that I was traveling back to NYC for the final week of October while the FEARnyc horror film festival was in full swing. On the same night I was due to arrive back in the city they would be premiering a film I had been keeping track of for a while, that film was Dead Awake.  Rather than doing just a traditional review, I decided it would be fun and different to look back on the fun night out I had going to see the film.
Dead Awake stars Jocelin Donahue, Jessie Bradford, and Brea Grant among others and is the brainchild of Final Destination creator Jeffrey Reddick. It delves into the very real phenomenon of sleep paralysis also at times more sinisterly known as "old hag syndrome".  So right there I was interested and I always try to support good people, so I went ahead and bought a ticket in advance. So I arrived back in Queens on the afternoon of October 26th, greeted by that beautiful crisp fall weather that hits you when you walk out of arrivals at Laguardia. On the way back to the house it was great to see how into Halloween everyone in the neighborhood was and how cool all the decorations on the houses and even apartment buildings were. One apartment building even had a spider web stretched out from it's roof to the ground floor with a giant spider on it.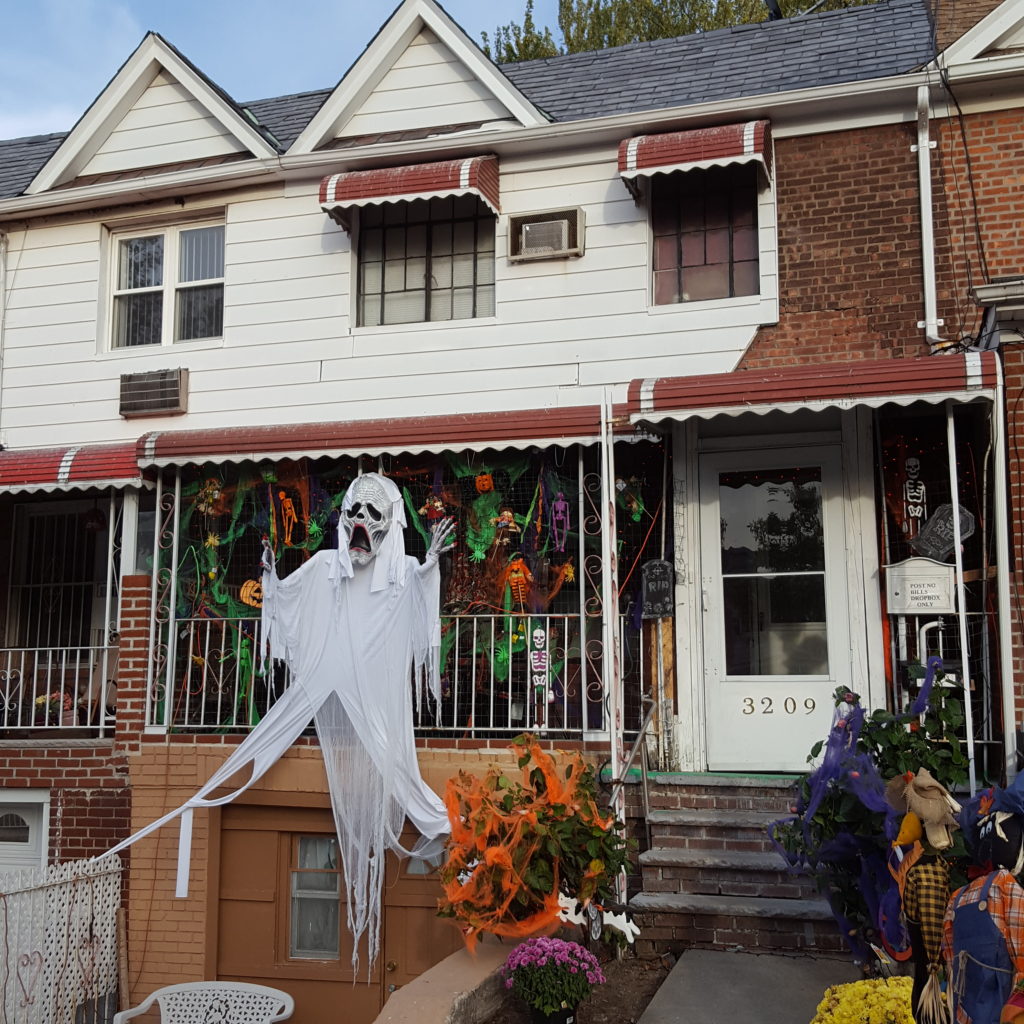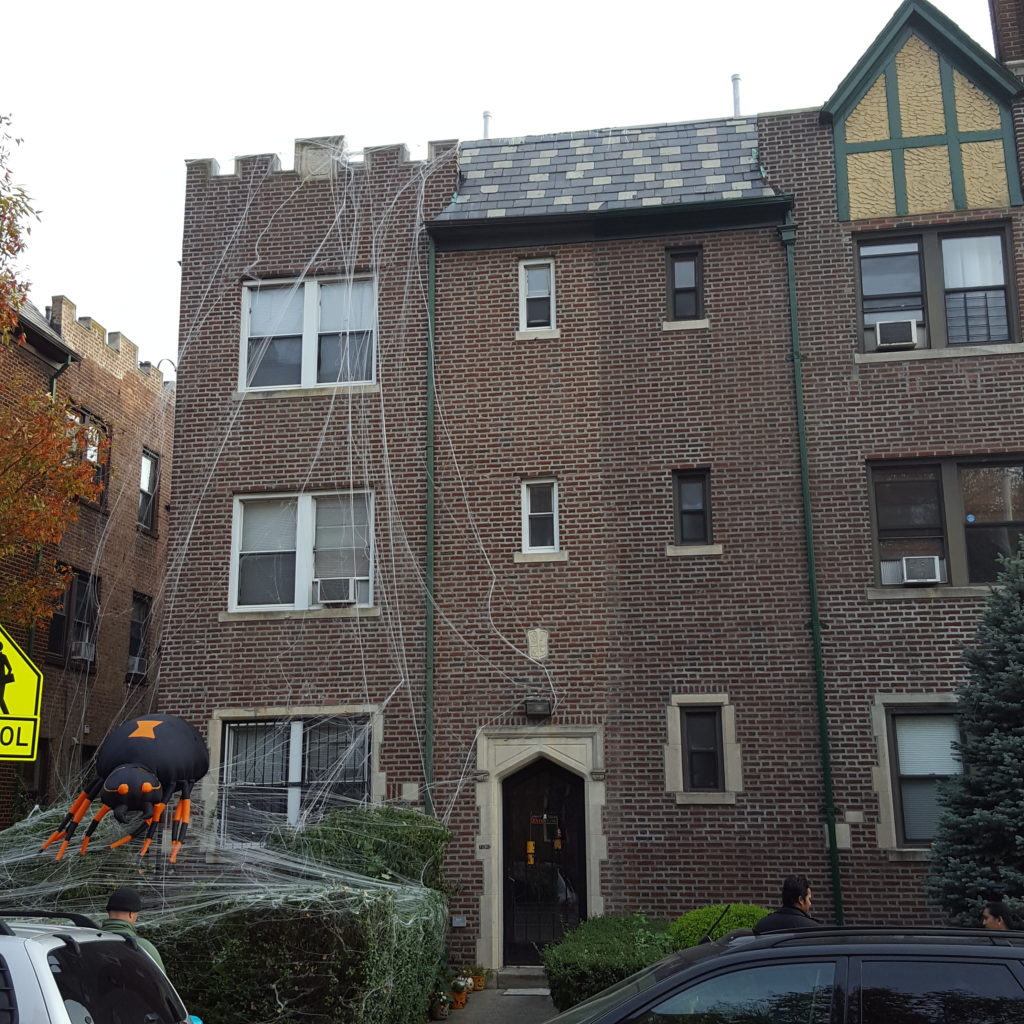 So I got settled in and started my walk to the subway station to catch the 7 train into the city. As I made my way through my old neighborhood of Jackson Heights I enjoyed passing by all the spots from my youth including the buildings I first trick or treated in. I think most horror and Halloween lovers would say each day in October is a chance to do something special and we like to get the most out of it, so I was pretty happy about getting to check out this movie event and spend a night in the city. One thing I will never tire of as long as I live is emerging from the subway station and being in the midst of the giant skyscrapers and the energy you feel immediately.  As usual I opted to walk my way downtown from Grand Central to take in the sights and sounds first though I headed uptown to meet my little sis for a bit as she was on her lunch break for work. Eventually I made my way towards the Cinema Village theater, the sun began to set and the temperature dropped fast. I enjoyed the walk and checking out all the Halloween decorations in the store windows. Nothing better than seeing the spirit of the season every where you look. I got to the theater early and got my ticket, then headed back out to check out some more stuff. I ended up stopping by the Halloween Adventure store, a huge year round costume shop that I always enjoy going to, but especially this time of year as it is full of people looking for that perfect item to complete their costume.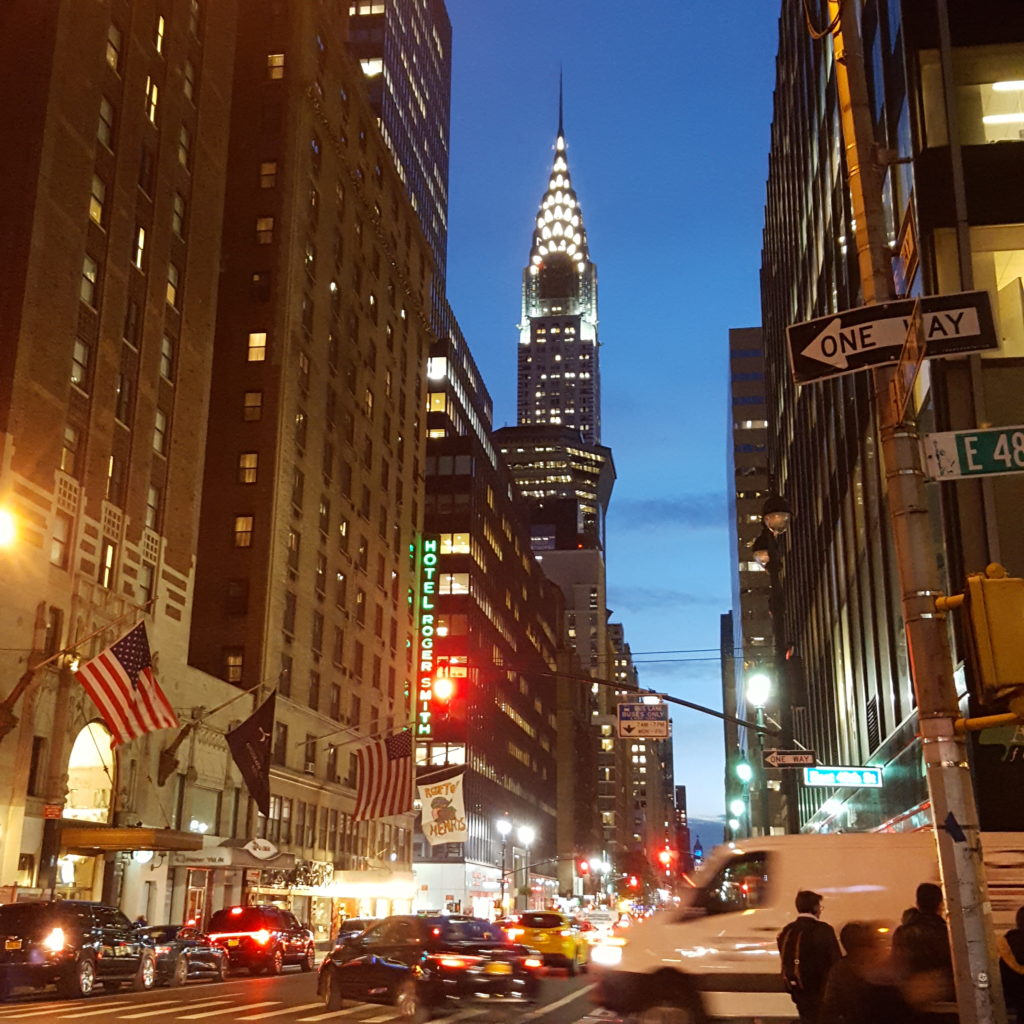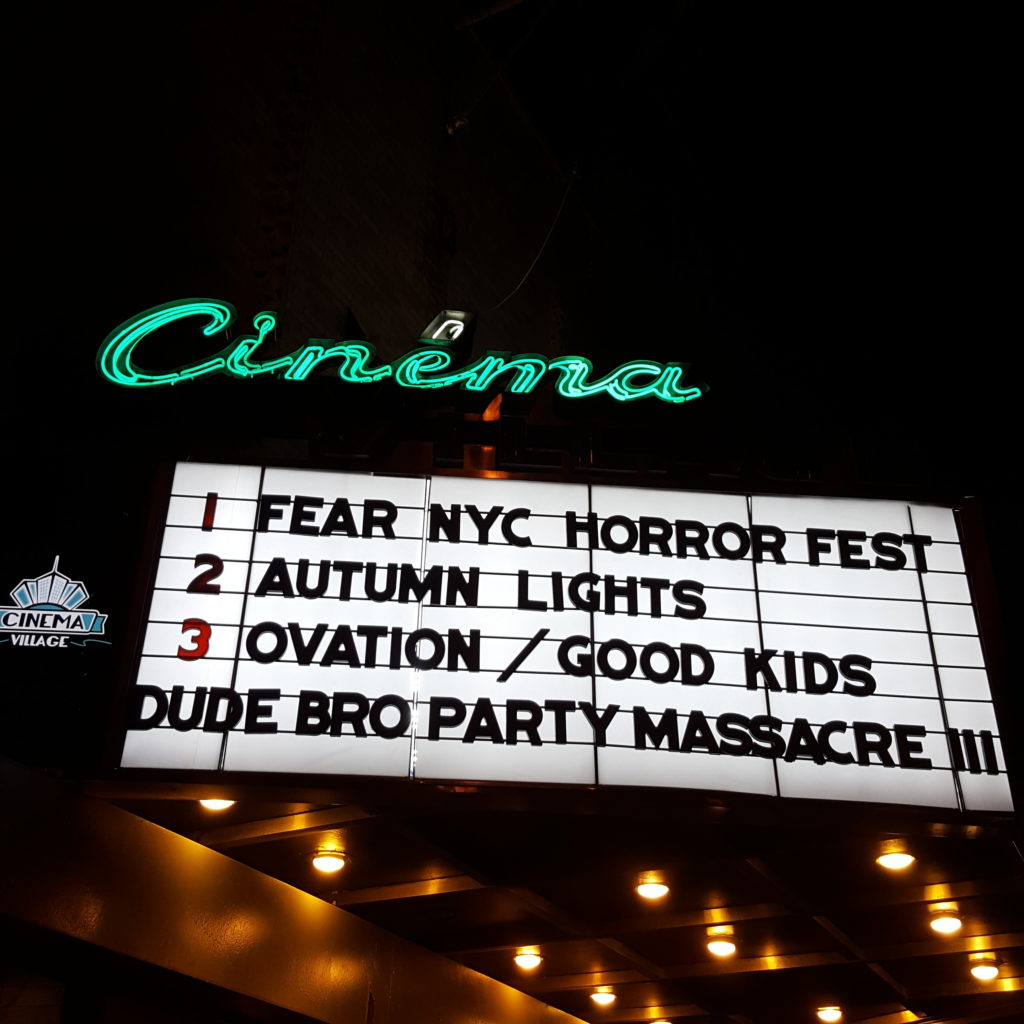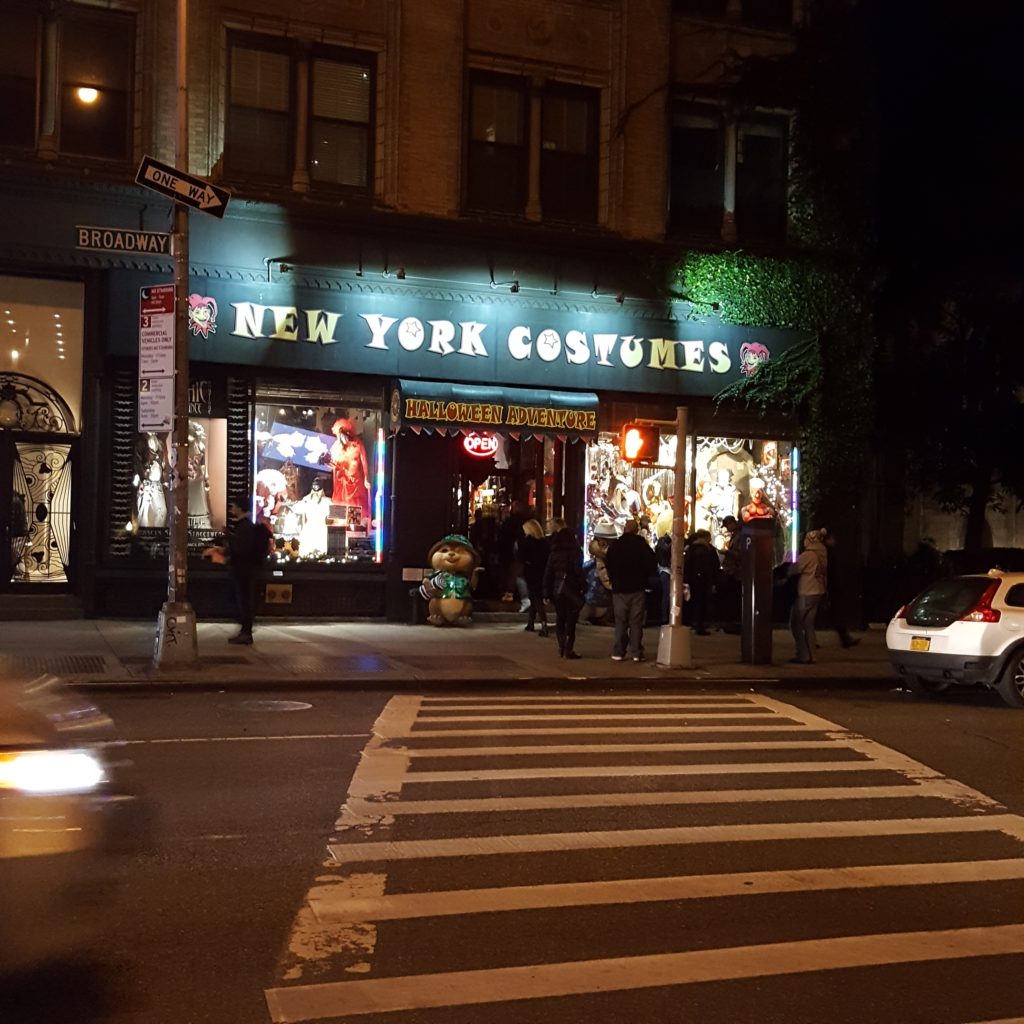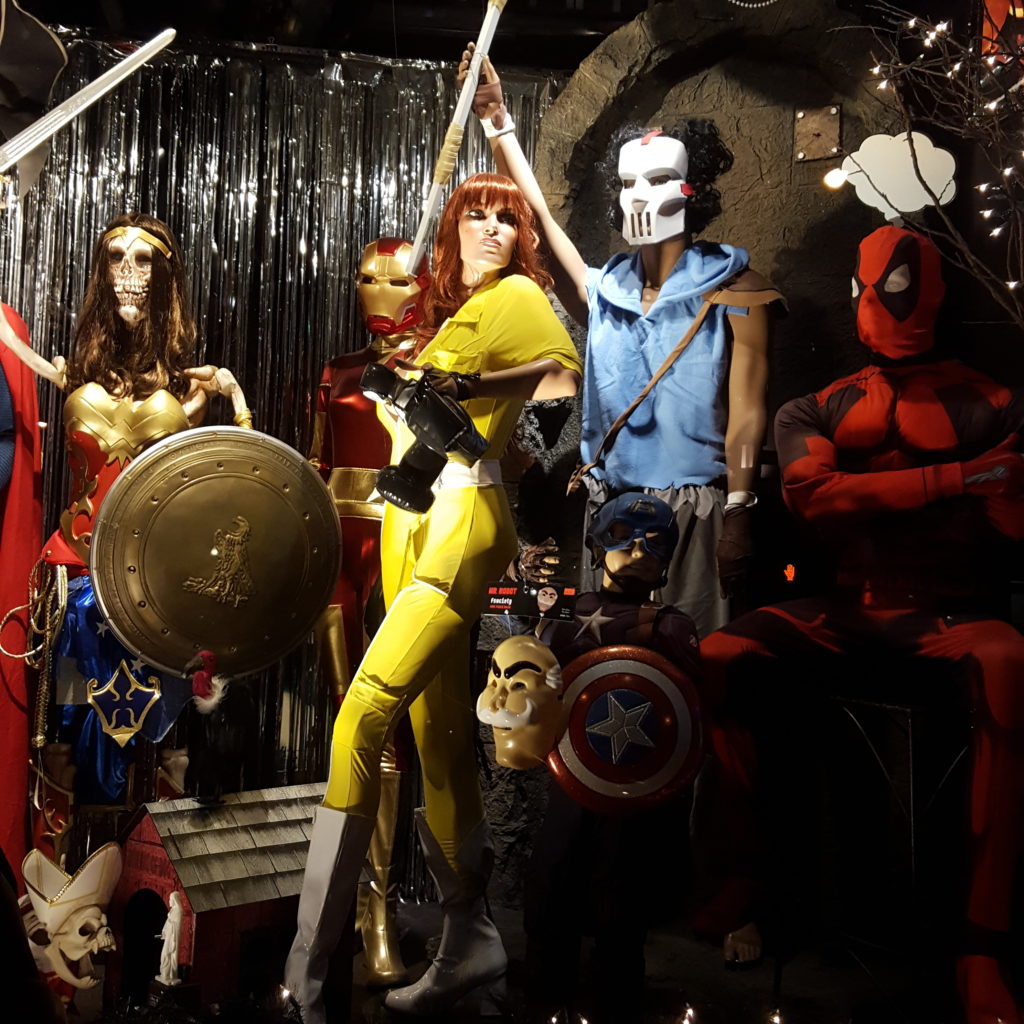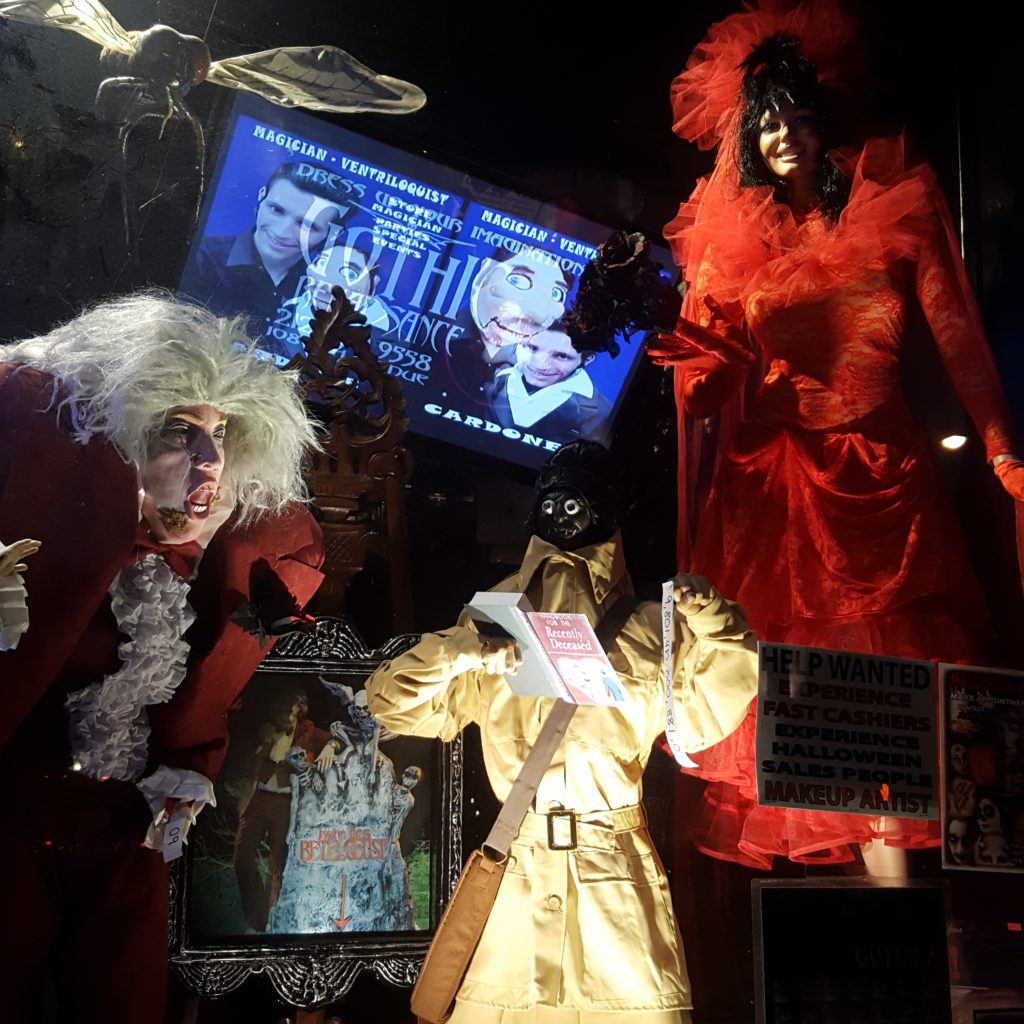 After there I headed down a few blocks to The Forbidden Planet, one of the most popular comic book stores in the city and one I have been going to since I was a little kid (albeit at a slightly different location) It is always nice to see some new horror collectibles hitting shelves in time for Halloween. Very fitting as well that there was a new Freddy Krueger one given the fact that Dead Awake's creator Reddick loves the series.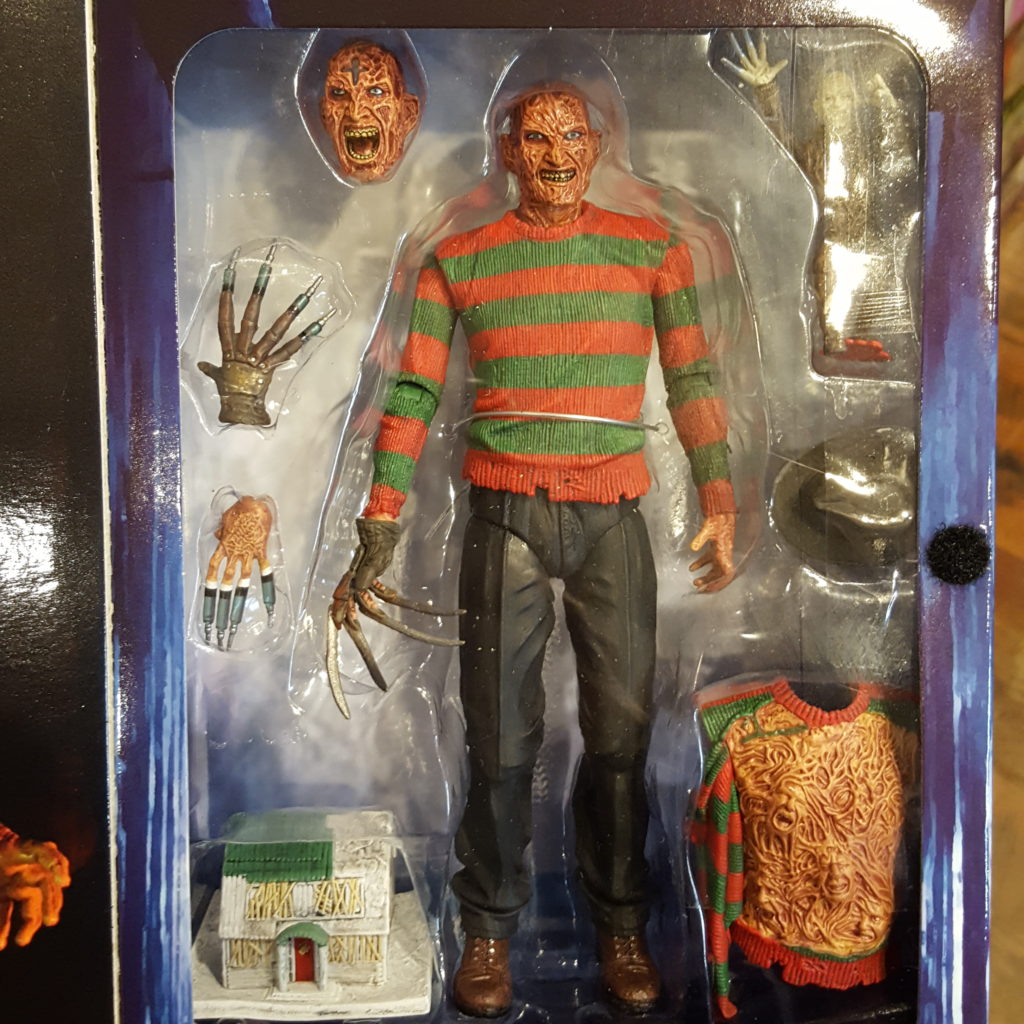 So as it got later and I wandered around more, I decided to start heading back towards the theater but I needed to eat something. I stopped at a pizza place I had never been called Slice & co to grab a slice and walk to the theater, luckily the pizza ended up being so good, I ended up turning around and went back for a second. Eventually I made my way to the theater and waited outside for a bit as there was a screening in progress. It was pretty cold outside and the ticket booth guy was cool enough to let me wait inside. I went down to the lower level where there was a bench I could sit on, and met two other horror fans waiting to see the movie, we discussed the other films that they had already seen during the fest or were going to see, as well as how they decided to see this because they too (like me) were big fans of Jocelin Donahue. So we chatted a bit more before I decided to go get a bit of fresh air and noticed they were setting up a line for the film outside. So I decided I would just wait there, while doing so I had the pleasure of running into Jeffrey Reddick himself. We had spoken to a few times via twitter and instagram and I had mentioned I would be in town in time for the premiere. He was very friendly, excited to talk about the film and genuinely happy to see me enthusiastic for the screening. We spoke for a bit before he had to go in and meet some more people but not before introducing me to the film's producer James Lamarr who was also very cool and happy to speak about the film with me for a few before heading inside.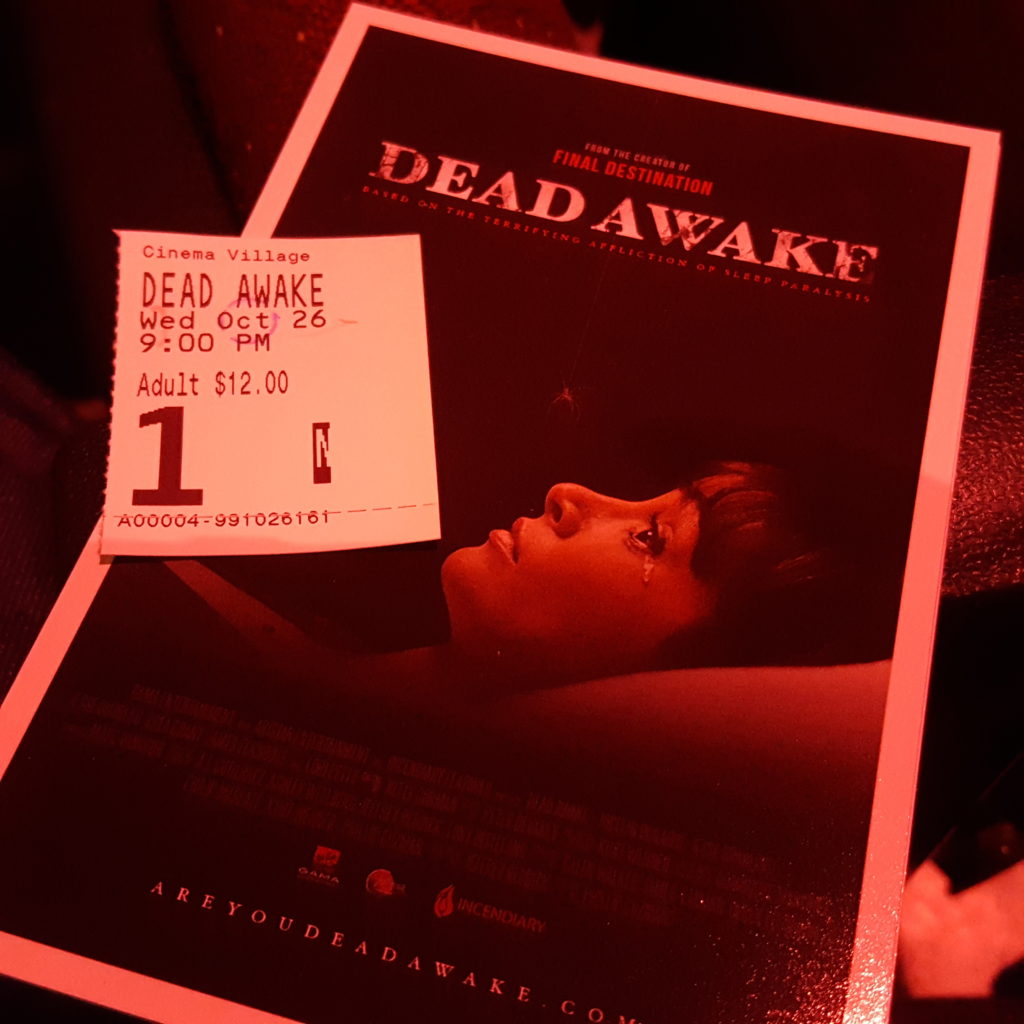 On my way in I managed to snag a few of the postcards that had the films poster printed on them and found a good seat. They introduced the film and the lights started to dim and I was happy to be sitting in this cool theater watching a new horor movie not many people had seen at that point. It's always a kick seeing Jocelin on the big screen as she is one of my favorite actresses and people in general and in Dead Awake she plays twins Kate and Beth Bowman. Without giving too much away the film revolves around Kate trying to find out how to survive her increasingly terrifying bouts of sleep paralysis that are accompanied by an evil entity who seems to be plaguing more than just Kate. Along for the ride is Jessie Bradford (Bring it On, Swimfan) as Evan, who decides to help Kate on her journey for answers which leads them to a Sleep Paralysis expert who has been battling the affliction and this entity for years.
Director Philip Guzman gives the film a stylish enough look to keep things interesting, as Reddick based much of this script on research he did so he did not want to get too fantastical with the symptoms, etc. So many of the scenes may play out in similar fashion that adhere to the lore of the Old Hag, but they differentiate enough to not be too repetitive. One of the tough parts about this subject matter is the victims in the film can only do so much as they are in effect paralyzed so it is up to the actors to do most of their acting with their eyes and luckily both Donahue and Bradford deliver performances that get their fear across while being limited in what they can do and help sell the creepier horror moments. It actually dawned on me while watching that it is tough subject matter to handle. As previously stated Reddick did not want to get TOO exaggerated and wanted it as grounded (as can be of course) in the actual cases of sleep paralysis that he read up on while working on the film. I feel if he had gone any further it would have just turned into A Nightmare On Elm Street where victims are running around in their dreams, etc, speaking of which, Dead Awake wears it's inspiration and love for that franchise on it's sleeve. So I would be surprised if seasoned horror fans do not get a distinct original ANOES vibe from the film. Some very intentional as per Jeffrey in the post screening Q&A. Overall I found Dead Awake to be well worth my time and I think horror fans should give it a look. For me I found the most intriguing part to be the fact that this is all based on very real issues that people suffer from and it takes that and respectfully explores it while still managing to get some creepy moments sprinkled throughout. It would be a perfect watch to throw on late one night particularly before bed for maximum effect.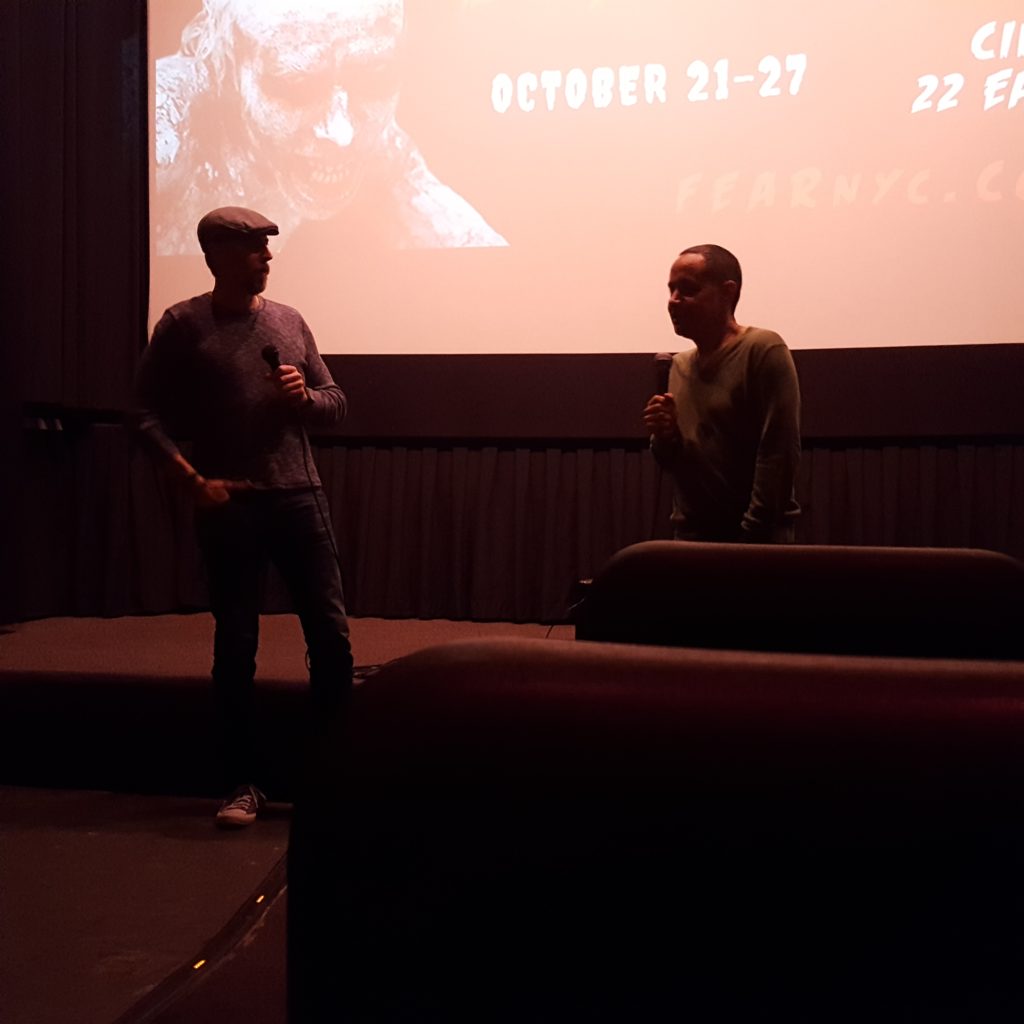 Afterwards Jeffrey and James particpated in a friendly post film Q& A with the audience and they really gave some good insight into just how tough it was to get the film made the way they wanted and how they kept fighting for it as it was a labor of love for many years. It was a nice capper to the film and makes you appreciate just how much effort goes into making these films that many fans and viewers sadly do not ever take into account. So it was a rare treat to be able to hear this stuff and ask questions directly after viewing. After everyone filed out I spoke a bit more with Jeffrey and James and thanked them for their time. It felt good to see a cool horror movie premiere in October, and also to support not only one of my favorite actresses (and people) like Jocelin but also some other genuinely good people in Jeffrey and James (and Philip) and their passion project. After I said my goodbyes I ventured off into the city, satisfied that I had made the most of this late October night and definitely stopped by the pizza place one last time for a slice before heading back to Queens.
Just wanted to thank Jocelin, Jeffrey, James and Philip for always being so cool. Always wishing you guys the best of luck and success.
DEAD AWAKE IS NOW AVAILABLE ON DEMAND ON ALL PLATFORMS AND IN LIMITED RELEASE IN SELECT THEATERS.