This short review is back from when we were lucky enough to check out this movie at the 2017 Popcorn Frights Film Festival. With the movie now available on VOD I thought it absolutley deserved being reupped as the film is great and needs to be seen. I have also added some additional current thoughts on the film.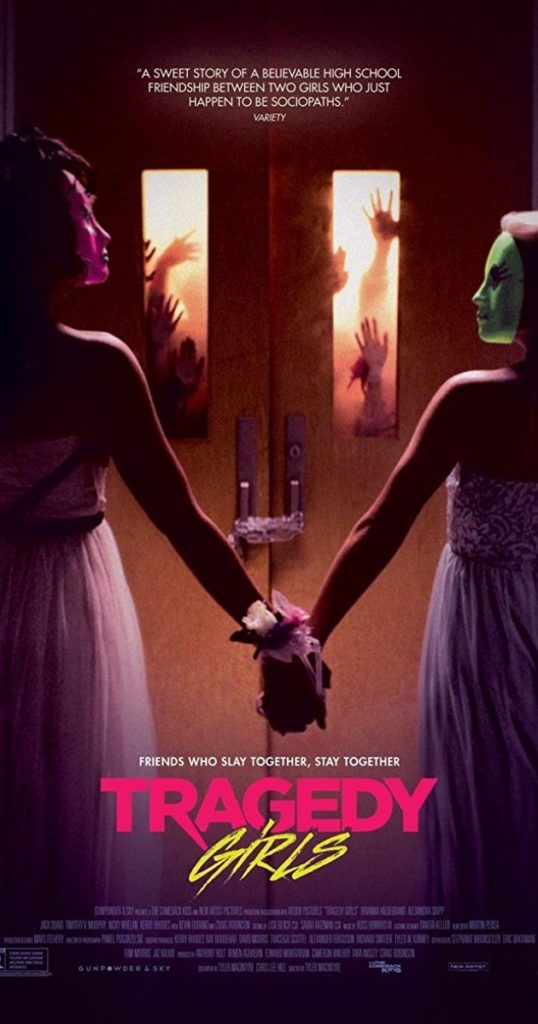 The story goes:
"Best friends Sadie and McKayla are on a mission to boost their social media fandom as amateur crime reporters hot on the trail of a deranged local serial killer. After they manage to capture the killer and secretly hold him hostage, they realize the best way to get scoops on future victims would be to, you know, murder people themselves. As the @TragedyGirls become an overnight sensation and panic grips their small town, can their friendship survive the strain of national stardom? Will they get caught? Will their accounts get verified?"
"A fun and colorful horror comedy about two girls who are dying to become the next big name in the serial killer game and attempt to do so by kidnapping a legendary local killer to teach them the ropes. The performances by Brianna Hildebrande and Alexandra Shipp anchor the film while selling some of the sillier (but always fun) moments throughout. While it is primarily a comedy first, the horror aspects of the film are never shyed away from and the blood and gore deliver for the hardcore horror fans out there that may be wondering if the teenage story may keep the film in pg-13 territory. It does not and Tragedy Girls succeeds on all accounts while easily ending up as being one of the best films in the festival and will no doubt find a big following once it's full release, and deservedly so.  The easy but apt comparison is Mean Girls meets Scream 4."
So it has been about 5 months since I had first seen this movie and after rewatching it again this past weekend, I have to say that it holds up exceptionally well and is still just as fun and entertaining. While I am sure there will be a sect of hardcore (snooty) horror fans who will rebel against the "millenial" themes and nature of the film,  I think Tragedy Girls will gain an even bigger following once the blu ray/dvd release hits and people can have physical copies in hand. I hope that it has some good special features included because this is the kind of film that could totally have a disc chock full of them. I think director Tyler McIntyre and everyone else involved should be proud of the film they have put together as it's definitely a crowd pleaser that should satisfy all types of audiences.
Tragedy Girls is now available on VOD and you can read much more about it here : https://www.tragedygirlsmovie.com/