Set in riot-torn, near-future Los Angeles, HOTEL ARTEMIS is an original, high-octane action-thriller starring Jodie Foster as The Nurse, who runs a secret, members-only hospital for criminals. Jodie Foster is joined by an all-star cast that includes Sterling K. Brown, Sofia Boutella, Jeff Goldblum, Brian Tyree Henry, Jenny Slate, Zachary Quinto, Charlie Day, and Dave Bautista. With a lineup like that this is sure to be at the very least one entertaining flick, so grab some free passes for next week's screening at AMC Sunset Place in Miami.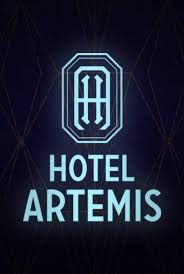 The Screening is at 7:30pm on Wednesday, June 6th at AMC Sunset Place
Get there early as seating is on a first come first serve basis.
LINK: http://www.gofobo.com/HOTELTRUE
CODE: HOTELTRUE