Today I am excited to share my second poster of 2018. For this creation I had the pleasure of collaborating on a faux film one-sheet with the lovely Ari Dee. For this project I wanted to design something a bit different than I normally would so we headed into 60's/70's sexploitation territory for our horror inspiration. I think the results speak for themselves so read on to check it out. 
Religious themes and imagery are a staple in the world of horror films. Nuns and Satan often play a common denominator in films dealing with such topics, some notable instances are of course the nun mother of Freddy Krueger and more recently, the demonic nun found in The Conjuring 2.  When it comes to the topic of Satan in horror films, I could write an entire book on the subject. Of course many of you know one of my favorite films of all time, House Of The Devil revolves around a satanic plot (I know, shocking with a title like that) So I had always wanted to do something involving a nun or religion as I think it can often lead to striking imagery one way or another but never really had the right vision or insipiration. That is where Ari came into play and served up both to me on the proverbial silver platter.
As soon as I saw her in this nun outfit, the poster practically designed itself. Where I often lean more towards the 80's vibe for things, she immediately conjured up images in my head of the old school exploitation posters that were so prevalent in the 60's and 70's. I knew exactly what I wanted to do with it right down to the color scheme. Ari is the sweetest and has always been someone I have wanted to work with on something for quite some time. So to finally be able to do that with her blessing and involvement really meant alot. The outfit, makeup, lighting and title of this little fictional film "Satan's Sister" was all her doing and concept. So I am grateful she entrusted me with taking it all a step further into the poster realm. I was also relieved that she ended up loving the final product when it was all put together.
Hopefully you all will enjoy the end result of this concept below as I think we nailed the look of the era we were going for and she does a fantastic job of looking sexy as hell (no pun intended I SWEAR to god) and badass all at once. Just want to thank her again and I look forward to hopefully collaborating on more future projects when the inspiration strikes.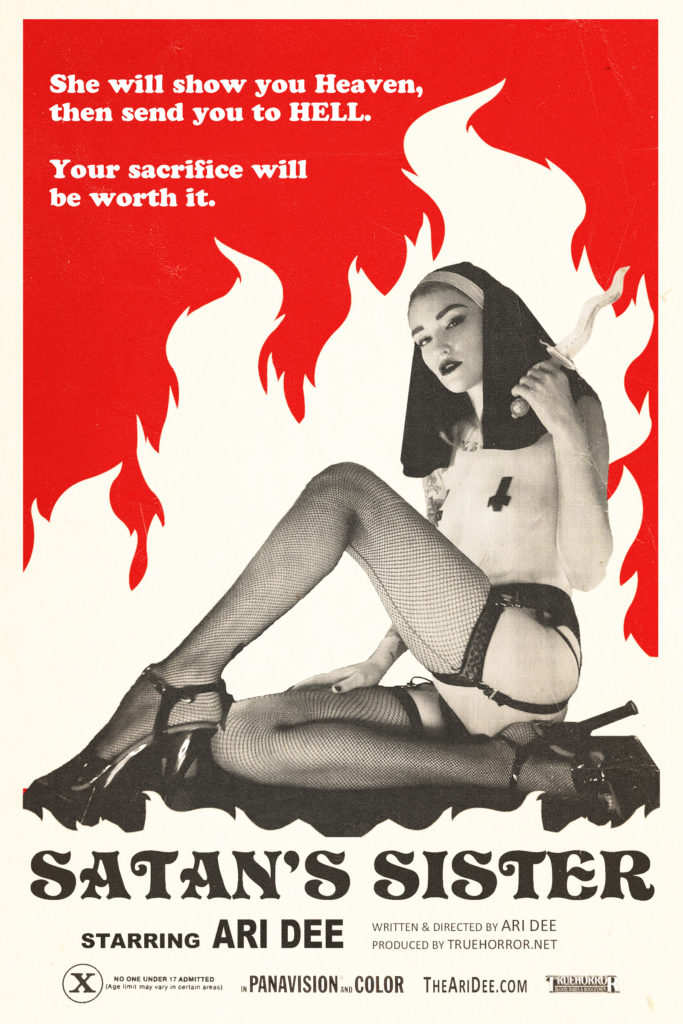 You can follow Ari on Instagram & for some of her more adult oriented modeling and work you can check Twitter and of course her own site TheAriDee.com